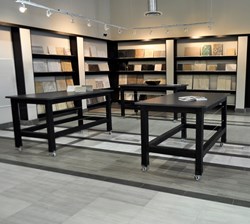 "today, the client requires a service level that includes convenience through proximity"
Fairfax, Virginia (PRWEB) February 06, 2014
Marble Sysems, Inc., a fashion forward provider of premium stone and tile since 1982, has expanded into the Loudoun County, Virginia area. The new studio is located at 25383 Pleasant Valley Road in Chantilly, Virginia. The evolving demands of the luxury stone and tile market require constant attention to location as consumer demographics shift.
To meet this market condition, Munir Turunc, the President of Marble Systems felt that "we simply had to add a location in the suburbs west of our flagship location in Fairfax. The Chantilly studio will extend our brand presence in a style that is consistent with the standards of service and selection for which we are known".
Mr. Turunc and the Marble Systems team believe that client convenience is paramount in order to adhere to its core principles. Those being the continuous development of fine collections of natural stone, ceramic tile, porcelain tile, glass tiles, metal tiles and more.
Since 1982, Marble Systems Inc. has been committed to delivering exquisite collections of natural stone, tile, glass and metal. With distribution and design centers in Washington, D.C., New York, Florida, Los Angeles, and Puerto Rico, Marble Systems is uniquely positioned to provide a virtually unlimited supply of the industry's highest quality natural stone and tile design products.
Stone and tile professionals, designers, architects, builders and consumers interested in learning more about Marble Systems should contact Karen Hansen at 703.204.1818.