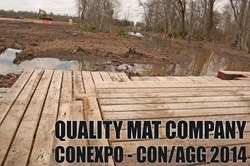 Beaumont, Texas (PRWEB) February 04, 2014
In just a few weeks, experts, contractors and suppliers from the construction industry will gather at the Las Vegas Convention Center to showcase the newest breakthroughs in technology, products, and equipment. The 2014 CONEXPO-CON/AGG will be held from March 4th through March 8th and will feature 2,400 exhibitors from all major construction industries, including, asphalt, concrete, earthmoving, mining, utilities, aggregates, lifting, manufacturing, heavy equipment mats and more.
Quality Mat Company is proud to be attending CONEXPO-CON/AGG once again to present their latest heavy equipment mats and other mat designs that will continue to increase productivity and efficiency for customers across all construction industries. More than 125,000 attendees from 150 countries will converge on the expo, representing contractors, dealers, distributors, service providers, engineers, and municipalities. Educational programs will be held throughout the five-day exposition with sessions focusing on industry issues and trends, applied technology, and management.
The new EcoMat will be one of the focal points of Quality Mat's presentations, along with their long-standing line of other heavy equipment mats. The new EcoMats are made from a plastic and mineral blend, minimizing the transfer of chemicals from site to site. EcoMats also increase safety measures more than other heavy equipment mats because they have less open spaces and use bolts instead of nails—eliminating flat tires. These environmentally friendly ground protection mats are made from 50% recycled material, reducing about 1,200 pounds of landfill material. EcoMats can be reused many times, and is designed to be recycled at the end of its life.
Visit Quality Mat's representatives at the CONEXPO-CON/AGG this spring to discover the latest innovations from Quality Mat Company!
About Quality Mat Company
Joe Penland founded Quality Mat Company in 1974 and it has since become one of the largest producers of heavy equipment mats in the industry. Quality Mat regularly attends the CONEXPO-CON/AGG to share their latest products and maintain connections within the construction community.