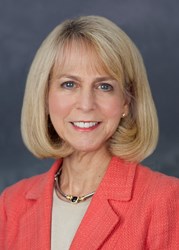 Denver, Colorado (PRWEB) February 04, 2014
Holland & Hart LLP is pleased to announce that Jane Michaels has been named to the 2013-2014 Lawdragon 500 Leading Lawyers in America, the eighth annual Lawdragon guide listing the nation's top attorneys who are chosen from a combination of submissions from law firms, votes and editorial research.
As Chair of Holland & Hart's Trial Practice, Michaels helps her clients protect and defend their intellectual property and business enterprises in courtrooms and arbitration proceedings around the country.
She has successfully handled dozens of trademark, trade secrets, patent and copyright cases, obtaining injunctive relief and damages to enforce the valuable intellectual property rights of her clients and defending infringement claims brought against her clients. She has won numerous complex jury trials and bench trials in business disputes, in both IP and commercial litigation. She advises clients across multiple industries, including telecommunications, computers/electronics, Internet, biotech, pharmaceutical, manufacturing, hospitality, sports, real estate and oil and gas.
She is also a certified arbitrator and mediator and has handled dozens of alternative dispute resolution proceedings in intellectual property and commercial cases.
Michaels was recognized in 2013 by Benchmark Litigation as a Local Litigation Star and one of the Top 250 Women in the United States in Litigation. She was also selected as a Gold-rated Patent Litigator in Colorado by IAM Patent 1000–The World's Leading Patent Practitioners for 2012-2013. The Best Lawyers in America® named Michaels as the Denver Patent Litigation "Lawyer of the Year" in 2012. She was previously named one of the "Top Ten Trial Lawyers in Colorado" by the National Law Journal, and she is consistently ranked by Chambers USA in both Intellectual Property Litigation and Commercial Litigation, among other honors.
About Holland & Hart
Holland & Hart LLP delivers integrated legal solutions to regional, national and international clients of all sizes.
Since its inception in 1947, Holland & Hart's more than 450 lawyers have consistently been recognized by leading national and international peer and industry review organizations for innovation and dedication to the practice of law.
For more information, visit http://www.hollandhart.com.