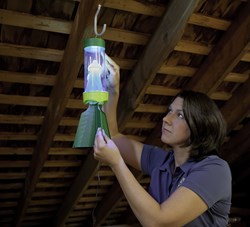 Now is the time to fight stink bugs. Whether you use a homemade trap or one of ours, do something now to break the cycle and reduce their numbers.
Spokane, WA (PRWEB) February 05, 2014
Famed groundhog Punxsutawney Phil woke up from hibernation on Sunday, saw his shadow, and as legend goes, retreated back to his burrow for six more weeks of winter slumber. But what does this mean for insects that wake up from hibernation indoors?
Unfortunately, once hibernating stink bugs wake up, they don't go back to sleep like Phil. When the stored-up food in their bodies runs out, stink bugs think it's spring and move around the house in search of warmth. Until there's ample foliage to return outdoors to mate and eat, a late spring means stink bugs hang around longer to harass homeowners.
The good news is that by stopping them in their tracks indoors, it's possible to break the stink bug life cycle before they head outdoors in early spring to mate and multiply.
So, how can you stop these pesky bugs in their tracks?
Experts say a good indoor stink bug trap with an LED light works best to kill stink bugs indoors.
"Now is the time to fight stink bugs," says Rod Schneidmiller, president of Sterling International, developer of the RESCUE!® Stink Bug Traps. "Whether you use a homemade trap or one of ours, do something now to break the cycle and reduce their numbers."
If you've seen one stink bug indoors, there could be hundreds more congregating and hiding in your attic, basement or rooms.
Brown marmorated stink bugs have now been found in 39 states. The propensity of stink bugs to congregate indoors is one reason this invasive species has spread so rapidly since getting established in the U.S. in the late 1990s. It's also the main reason why stink bugs have become one of the most hated insects around.
To prevent stink bugs from invading your living spaces, follow these tips from the pros:
Find where they're hiding. Dr. Tracy Leskey, a research entomologist with the U.S. Dept. of Agriculture says stink bugs naturally walk up and collect in high points on your house. They congregate in warm dark areas so, be sure to check behind drapes, vents and even ceiling tiles.
Don't vacuum. If you vacuum, you'll scare them and they will emit a foul odor that will linger in your vacuum cleaner and home. If you do, change and dispose the bag immediately.
Pick them off. When you see them in your living room, walls or curtains, pick them off with a tissue, drop in a cup of soapy water and flush down the toilet. Do not release outside. "These aren't ladybugs," says Doug Oster, author of Grow Organic. "You have to out-smart them."
Trap em'. Outdoors, stink bugs are attracted to scent. Indoors, they move toward light. Place an indoor trap with an LED li ght in attics, living areas and basements where the bugs gather to hibernate through the winter. For maximum effectiveness, it should be the only light source in the room. Once you set the trap, leave it in place to catch stink bugs when they first wake up.
Check your traps frequently to make certain they're catching stink bugs. "Light is what works indoors," says Oster.
Oster says RESCUE!® offers a Stink Bug Light to go with their Stink Bug Trap - an attachable LED with a specific wavelength proven to lure the bugs into the trap. The light easily snaps onto the Stink Bug Trap and plugs into either a wall outlet or battery pack. "Be vigilant and move fast to capture and dispose of the bugs," he warns.
For more information and great tips on how to beat stink bugs, visit RESCUE.com. RESCUE!® Stink Bug Traps are available in home improvement centers, hardware stores and lawn and garden retailers. Visit the site for a list of retailers near you.
Established in 1982, Sterling International, Inc. offers RESCUE!® traps and attractants for stink bugs, wasps, hornets, yellowjackets, flies, Japanese and Oriental beetles and more. These products are prominently on shelves at home improvement centers, hardware stores and lawn & garden retailers throughout the U.S. and Canada. Find the closest retailer here. For more information and great tips, visit http://www.rescue.com. You can also follow RESCUE!® on Facebook and Twitter.