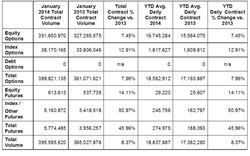 Chicago, Illinois (PRWEB) February 03, 2014
OCC cleared contract volume reached 395,595,620 in January, an 8 percent increase from the January 2013 volume of 365,027,878 contracts. January 2014 marks the highest January volume for OCC to date, reaching record highs in options, futures and stock loan activity.
Options: Exchange-listed options volume in January was 389,821,135 contracts, an 8 percent increase from January 2013 and the highest January options volume to date. Equity options trading volume reached 351,650,970 contracts, a 7 percent increase from January 2013. Index options trading volume reached 38,170,165 contracts, up 13 percent from January 2013. Average daily options trading volume for the month of January was 18,562,912 contracts.
Futures: Futures cleared by OCC reached 5,774,485 contracts in January, a 46 percent increase from January 2013. Equity futures volume was 613,613 contracts, up 14 percent from January 2013. Index and other futures volume came in at 5,160,872 contracts last month, a 51 percent increase from 2013. OCC cleared an average of 274,975 futures contracts per day in January.
Securities Lending: OCC's securities lending CCP activities saw a 6 percent increase in new loans from January 2013 with 106,134 transactions last month. The average daily loan value at OCC in January was $80,232,802,121, which represents the highest average notional value ever recorded in a single month.
About OCC
OCC is the world's largest equity derivatives clearing organization. Founded in 1973, OCC operates under the jurisdiction of both the Securities and Exchange Commission (SEC) as a Registered Clearing Agency and the Commodity Futures Trading Commission (CFTC) as a Derivatives Clearing Organization. OCC now provides central counterparty (CCP) clearing and settlement services to 17 exchanges and trading platforms for options, financial and commodity futures, security futures and securities lending transactions. More information about OCC is available at http://www.theocc.com.
###