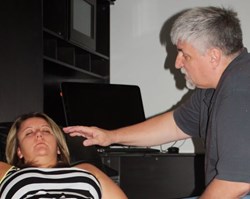 "I found Mr. Lambert to be an excellent instructor. His charismatic presentation, personal success stories, and hypnosis knowledge made the training fun. It was a wonderful experience." - Thomas Marone, CHt, Virginia
Crofton, Maryland (PRWEB) February 04, 2014
Omni Hypnosis Training Centers® are an ideal place to see, learn, and practice hypnotherapy. They set the highest standards of professional hypnosis training and offer the well-respected and fully-accredited Hypnotist Certification Training Course.
This course teaches the use of regression-to-cause and direct suggestion techniques to maximize the students' ability to help their clients find the source of their problem and then resolve it. The Omni Hypnosis Training Center® of Washington, DC, uses time-tested instructional techniques to help students learn, gain hands on experience, and build confidence.
Students are trained in the most effective induction techniques, allowing them to quickly hypnotize almost anyone into a deep trance. They learn the secret of when and how to give direct suggestions that become effective and permanent within each client. Applying the latest hypnotic regression and transformational techniques will enable them to identify the cause of their client's problem and facilitate rapid, positive change.
This training provides hands-on application with supervision and feedback and is not just lecture/theory and videos. Skills and abilities are developed with humor and continual encouragement.

Learn the step-by-step skills to be a successful hypnotist.
Practice time-tested, proven, and easy-to-learn techniques.
Gain the confidence and knowledge you need to become a certified hypnotist.
Experience high-energy instruction guaranteed to keep you excited and interested.
Discover how to utilize no-frills techniques not taught elsewhere.
The Omni Hypnosis Training Center® of Washington, DC, is the most complete and organized examination preparation class for hypnotism available today. It uses lecture, audio-visual aids, demonstrations, hands-on application, along with follow-up question-and-answer periods. Upon successful completion of the course, graduates will receive a certificate and may use the credential Certified Hypnotist or Hypnotherapist (CHt).
About Omni: Omni Hypnosis Training Centers® today are global leaders in hypnosis training. Gerald Kein is the founder of the original Omni Hypnosis Training Center® in DeLand, Florida. Having trained thousands of hypnotists and hypnotherapists in over eighty countries, he is widely recognized as one of this country's leading instructors of clinical hypnotism. There are Omni training centers in the United States, Germany, South Korea, the Netherlands, Romania, Slovenia, and Switzerland. The Omni Hypnosis Training Center® of Washington, DC, works to provide the best hypnosis certification training and continuing education options for practicing hypnotists.
For more information, call us at 301-202-3605, visit our website at http://www.omnihypnosis-dc.com, or visit our offices which are co-located with Galaxy Hypnosis in the Crofton Medical and Professional Building, located at 1667 Crofton Center, Suite 4, Crofton, MD 21114. This training location is within a 2-hour drive of 4 international airports. Lodging accommodations are plentiful in the area and some are recommended on the website.