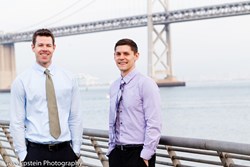 We support efforts toward improving heart health because the benefits of physical activity and a healthy nutritious diet can help reduce the chances of cardiovascular problems.
San Francisco, CA (PRWEB) February 03, 2014
Cardiovascular health and joint health go hand-in-hand. The importance of cardiovascular health is reflected in the need for strong muscles to functionally move the bones of the skeleton. In order to increase cardiovascular fitness, one must be able to move without pain and discomfort.
"Having a full range of motion throughout your body is key to ensuring that you can do the activities you want, from walking down the street to running a marathon," explains Dr. Adam Jacobs, head treating doctor of the Financial District location. "We support efforts toward improving heart health because the benefits of physical activity and a healthy nutritious diet can help reduce the chances of cardiovascular problems. Not only is it National Heart Health Month, but Valentine's Day falls in February, so what a better gift is there to give to your loved ones than a discounted chiropractic visit?"
Dr. Anthony Gustin, head clinician at the Mission/Bernal Heights practice, says, "While cardiovascular health can have a positive impact on the other body systems, including joint health, it is also important to realize that joint health has a direct impact on cardiovascular health. Without proper joint health, you may not have have pain free movement. Without pain free movement, you will likely not be using your joints and body the way it designed to pump blood and increase cardiovascular function."
It is very common to know someone who has joint pain and is limited in everyday activities due to their pain; this pain can serve as a deterrent to increasing physical fitness and therefore negatively impact one's cardiovascular health. Lifestyle changes, including making physical activity a priority, can promote joint health and keep joints more mobile and healthier for longer, while having the added benefit of increasing cardiovascular fitness. Chiropractic care is specifically designed to target and eliminate the causes of joint and soft tissue pain, including musculoskeletal asymmetries and functional disorders.
One of the leading chiropractic offices in the Bay Area, SF Custom Chiropractic provides tailor-made services to athletes, office workers, and people of all walks of life and ages. Laser therapy, kinesiotaping, and Active Release Technique are a few of the techniques that help treat musculoskeletal injuries and help to promote joint health. These services, along with Functional Movement Screening, can help assess biomechanical faults, muscular imbalances and asymmetries, while promoting proper mobility, stability and neuromuscular efficiency.
To honor National Heart Health Month and to encourage the Bay Area to focus on physical activity as a vehicle to improve heart health, SF Custom Chiropractic is offering ½ off new patient visits to the loved ones of existing patients.
Based in the Financial District of San Francisco, SF Custom Chiropractic opened in January 2011. In July 2013, SF Custom Chiropractic opened its second location between Bernal Heights and Mission District. Head treating doctor, Dr. Adam Jacobs received his doctorate from Palmer West College of Chiropractic (known for being the leader of sports chiropractic). Dr. Anthony Gustin received both his doctorate and masters from University of Western States in Portland Oregon. Both Dr. Jacobs and Dr. Gustin are Certified Chiropractic Sports Practitioners. In addition to their doctorate degrees, Dr. Jacobs and Dr. Gustin have full body A.R.T.® Masters certifications and long nerve entrapment certification and Dr. Gustin has received a Masters of Science in Exercise and Sports Science. SF Custom Chiropractic takes a holistic full body approach to fix underlying structural problems associated with back pain and many other musculoskeletal disorders. For more information, visit http://www.sfcustomchiro.com or follow us on Twitter @SFCustomChiro.