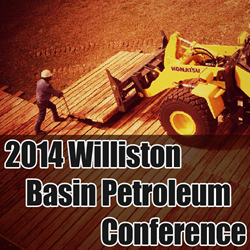 Beaumont, Texas (PRWEB) February 25, 2014
Joe Penland Sr. will address the 2014 Williston Basin Petroleum Conference this May in Bismarck, ND. The 22nd Williston conference will be hosted by the North Dakota Petroleum Council, North Dakota Department of Mineral Resources, and the Saskatchewan Ministry of Energy and Resources. Topics covered during the conference will include North American and world energy supply and demand, Bakken technical talks, as well as education and community impact discussions.
Quality Mat Company, famous for its variety of construction and ground protection mats, will be presenting their latest mats at the conference, including their widely used ground protection mats. "It should be a huge show," said Joe Penland Jr., who is also looking forward to his father, Joe Penland, Sr.'s featured talk at the conference. Penland Sr. will present a discussion on "Safe All-Weather Drilling Sites That Will Increase Productivity" on Wednesday, May 21st.
Revenue generated from the 2014 Williston Basin Petroleum Conference will be used for contributions to geological exhibits at the North Dakota Heritage Center, contributions for western North Dakota non-profit organizations, support for the North Dakota Petroleum Council Al Golden Scholarship Fund, and funding for the Oil Can! education and outreach programs. With community and charitable funding being such an important part of Quality Mat's vision, the company is proud to support these noble causes.
The 2014 Williston Basin Petroleum Conference theme is "Bakken Strong" and Quality Mat Company is proud to be participating in both the Williston Basin Petroleum Conference and the growth of the Bakken oil fields. Contributing both products and expertise to the Bakken community is one of Quality Mat's major priorities. Attending the 2014 Williston Conference represents a continuing commitment to the area, the industry, and America's energy future.
About Quality Mat Company
Since 1974, the Quality Mat Company has been an industry leader in ground protection mats. Based in Beaumont, Texas, Quality Mat has provided a full line of mats for construction, pipeline, and drilling to a number of industry-leading companies.