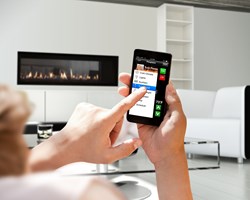 IntelliFire Touch Controls bring added convenience, intelligent information, and peace of mind to consumers when they interact with their gas fireplace.
Las Vegas, NV (PRWEB) February 05, 2014
Heat & Glo®, the leader in fireplace design and innovative technology, is transforming how consumers interact with fireplaces with the introduction of IntelliFire™ Touch Controls at the International Builders' Show today. The controls make it possible for homeowners to interact with fireplaces via a smartphone from virtually anywhere inside or outside the home.
"We live in a digital age and smartphones are becoming an important hub for controlling devices within the home," said Bob Ballard, senior vice president of Marketing at Heat & Glo. "Our new IntelliFire Touch Controls bring added convenience, intelligent information, and peace of mind to consumers when they interact with their gas fireplace."
The IntelliFire Touch smartphone app is simple, smart, and safe. With this app, consumers can now enjoy the simple convenience of turning on their gas fireplace from a distance so they can arrive home to a comfortable, pre-heated space. It provides smart information to the consumer by performing quick diagnosis, providing troubleshooting options, and even reminding consumers who their local installation professional is in the event they need additional support. For added peace of mind, consumers can view their fireplace settings from anywhere, ensuring the fireplace has been turned off after leaving and allowing them to monitor fireplace usage by others in the home. Parents can also engage a child safety lock feature to prevent unsupervised use.
For advanced comfort control, IntelliFire Touch provides a programmable thermostat setting that automatically adjusts the fireplace to maintain the desired temperature in a specific space within the home. Additional features include adjustable flame height, adjustable interior lighting effects, fan speed control, and a timer.
The IntelliFire Touch app will be available for both iOs and Android smartphones and tablets, and is estimated to be available third quarter 2014 on select products. Heat & Glo plans to roll out this technology across its entire offering of gas fireplaces, stoves, and inserts throughout the year following its introduction.
At the International Builder Show, visit booth #C6116 to see IntelliFire Touch Controls in action.
To see additional news releases from Heat & Glo and for high-resolution photographs and logos, visit http://www.fireplaces.com/mediakit or contact Julie Goetz at Julie(at)goetzresultscomm(dot)com or 952-452-3663.
About Heat & Glo®
Heat & Glo has been the fireplace industry leader in design and innovative technology since its inception by brothers Ron and Dan Shimek in 1975. The brand pioneered direct vent gas technology in 1987 and revolutionized the way fireplaces operate in the years that followed. Today, Heat & Glo continues to develop unmatched technologies, materials and designs in a full line of fireplaces, inserts and accessories. It is the most award-winning U.S. fireplace brand and has been granted more patents than any hearth manufacturer. Heat & Glo is headquartered in Lakeville, Minn. and is a brand of Hearth and Home Technologies. For more information, please visit http://www.HeatnGlo.com.
###