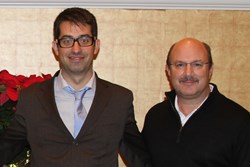 This partnership allows us to continue to differentiate Shaw Sports Turf as the leader in the synthetic turf marketplace.
Calhoun, Georgia (PRWEB) February 04, 2014
Shaw Sports Turf and Italgreen S.p.a. of Italy, have announced an exclusive partnership for Geofill in North America.
Italgreen is a 30-year-old Italian company which manufactures high-performance synthetic turf systems which have been installed in more than 50 countries, as well as the 100% organic infill, Geofill, for synthetic turf systems.
Geofill will now be offered exclusively in North America to customers of Shaw Sports Turf.
"This partnership allows us to continue to differentiate Shaw Sports Turf as the leader in the synthetic turf marketplace," said Phil Barlow, Vice President of Shaw's Turf and Specialty Markets Division. "Geofill is an environmentally friendly infill system that further reinforces the positive performance attributes of natural grass in a synthetic turf field system."
Introduced in 2005, Geofill is the first 100% natural infill in the world. It was originally introduced to provide a high-performance, environmentally friendly infill system. More than 500 fields around the world currently feature Geofill.
Geofill is a 100% organic mix, consisting mainly of coconut fibers and organic materials resistant to aging, tearing, and adverse weather conditions. Geofill creates a stabilized layer between the synthetic grass fibers which fills in the system like natural grass. An added benefit is that Geofill systems are typically cooler than systems which use rubber infill.
Geofill systems meet all FIFA requirements for one and two-star certification. FIFA is the world governing body of soccer.
"Shaw is a name known throughout the world for being a leader in manufacturing," said Maurizio Gilardi, Director General of Italgreen. "Italgreen and Geofill are also names with a best-in-class reputation, so this is a partnership which will greatly benefit customers in the North American market."
Among the worldwide stadiums already utilizing the Geofill system are Luzhniki Olympic Stadium in Russia, Shaktar Donetsk in Ukraine, Copiapo Stadium in Chile, and Stadio Silvio Piola (Novara FC) in Italy.
About Shaw Sports Turf
A wholly-owned subsidiary of Berkshire Hathaway Inc., Shaw Industries is a full flooring provider to the residential and commercial markets. Shaw supplies carpet, hardwood, laminate, resilient, and tile/ stone flooring products, as well as synthetic turf. Shaw Sports Turf is one of the leading synthetic turf companies in North America and has represented quality and innovation for more than two decades with over 1,500 successful installations, including an impressive list of high-profile field installations. For more information please visit http://www.shawsportsturf.com, call 866-703-4004 or find us on Facebook.
About Italgreen
Italgreen S.p.A. is a leading Italian industrial company manufacturing high-performance synthetic turf systems. Founded in 1983, Italgreen S.p.A has produced and installed top quality synthetic turf systems worldwide for over 30 years. Italgreen SPA is well known in the world for its innovative DNA and has been the first company introducing organic infill for synthetic turf market, Geofill®, internationally registered and patented product. Italgreen is a FIFA licensee company with partners around the world. For more information, please contact: export(at)italgreen(dot)it or visit our website at http://www.italgreen.it.