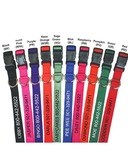 A dog is the only thing on earth that loves you more than you love yourself. - Josh Billings
Denver (PRWEB) February 05, 2014
Fit Pets and People (http://www.fitpetsandpeople.com), the online destination for healthy and fun products for pets, has just introduced a new line of embroidered dog and cat collars. This time of the year is a great opportunity to reassess pets' health needs and consider adopting a healthier pet food or dietary supplements to promote better health for pets in 2014.
New to Fit Pets and People's online store is an exclusive line of embroidered pet collars for under $20. The embroidered collars can be ordered with a pet's name and a telephone number so, in the event a cat or dog becomes lost, contact information will be prominently displayed even if they lose their identification tag. The collars are available in twelve designer colors and can accommodate up to 20 characters embroidered in the colored thread of pet owners' choice. Shipping is also free as with all Fit Pets and People products.
"December is perfect time of year to think about our four-legged companions," stated Debbie Pokorn, founder and CEO of Fit Pets and People. "Pet owners are not only looking for innovative gifts for their dogs and cats, they should also be thinking about their health needs. Having the right foods and supplements can help pets to live longer, happier lives, with fewer health problems. Now is the time to think about adopting a healthier diet for pets as a good start to the New Year".
Many commercial pet foods have been proven to have adverse effect on pets' digestion, causing problems such as runny eyes, problems with their skin or coat, and dysfunction in the liver and kidneys. After the holidays and New Year's Eve, many cats and dogs are inadvertently poisoned by human foods, such as chocolate, macadamia nuts, raw eggs, and dairy products. Fit Pets and People offers a complete line of natural, human-grade food and pet treats from Flint River Ranch. It also offers holistic pet food supplements formulated to help with weight control and digestion, and to promote stronger teeth and bones.
For more information about the collars, please visit http://www.fitpetsandpeople.com. Shipping is now free in all orders.
About Fit Pets and People
Fit Pets and People is the online resource for human grade food for healthy pets. Fit Pets and People carries a complete line of holistic, healthy gourmet food for dogs and cats, as well as nutritional supplements to address common health problems. The online store also features a wide selection of accessories, treats, and more.
For more information, please visit http://www.fitpetsandpeople.com.