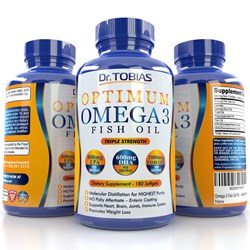 #1 for quality - Dr. Tobias Optimum Omega 3 beat out all of the competition, including products made by national nutritional chains.
Trittau, Schleswig-Holstein (PRWEB) February 06, 2014
The highest quality Omega 3 fish oil supplement in America is Dr. Tobias Optimum Omega 3 Fish Oil, according to research conducted by a trusted independent laboratory.
The study, performed by LabDoor, a company partly funded by investor Mark Cuban and by Rock Health, a nonprofit digital health incubator, looked at 30 leading brands.
The Dr. Tobias product beat out all of the competition, including products made by national nutritional chains. It was also rated number six for value.
San Francisco-based LabDoor compared products based on their label accuracy, manufacturing purity, nutritional value, ingredient safety, and projected efficacy. With the fish oil products they were particularly interested in the levels of mercury and the extent to which the products displayed any indications of rancidity or deterioration.
Shockingly, their research found that seven of the other products tested contained levels of Omega 3s that were an average of 20 percent less than the total amount declared on their labels. And at least eight products contained less of either docosahexaenoic (DHA) or eicosapentaenoic acid (EPA) than claimed on packaging.
In contrast, Optimum Omega 3 contains three to four times more DHA and EPA than most other brands in the market. It's made from the best quality coldwater fish, which is then purified through one of the most sophisticated molecular distillation processes available. Optimum Omega 3 is also enteric coated so there's no fishy aftertaste, while there is optimal absorption.
Dr. Oz calls Omega 3 the single most important supplement and Optimum Omega-3 was the only product tested that meets his recommendation of 600 mg of DHA a day in just one serving.
Dr. Tobias Ihde, CEO and president, said, "I'm delighted that the superb quality of our product was discovered and recognized by such a prestigious independent lab. It's gratifying to have such a wonderful seal of approval and to be acknowledged as the very best."
Dr. Ihde developed his Optimum Omega 3 Fish Oil after discovering that fish oil helped his back and joint pain. He felt that the dosage of existing products was too low and he had concerns about their quality.
Numerous studies have shown that Omega 3 fish oil supplements protect against heart disease and are also essential for the health of the brain and nervous system, skin and hair. Benefits have also been seen for the joints, eyes and immune system. Additionally, Omega 3s may lower the risk of Alzheimer's disease.
Added Dr. Ihde, "Much of how healthy and happy we feel is determined by what we eat and what we do. Supplements like Optimum Omega 3 Fish Oil provide essential elements that are often missing from our daily diet."
Dr. Ihde provides free health and activity videos "since diet and activity are two sides of the same coin."
About DTI UG
DTI UG is a new company that's setting new standards in the premium food supplement market. Its hallmark product Dr. Tobias Optimum Omega-3 Fish Oil has been rated as the "highest quality" product of its kind in the U.S.
DTI UG is dedicated to supporting its customers' health and happiness in today's fast-paced world. CEO and President Dr. Tobias Ihde has a background in Sports Science and Sports Medicine research and a doctorate in economics.