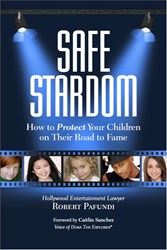 Nashville, TN (PRWEB) February 04, 2014
This is a first-of-its-kind book written specifically for the parents of children and young adults working in the entertainment industry, as well as those who aspire to become young film and television stars. Hollywood entertainment lawyer Robert Pafundi shows parents and others who care about the plight of entertainment children how to navigate the Hollywood maze by taking specific, practical steps that will advance the careers of performers who are 18 or younger.
Safe Stardom gets to the heart of the career-defining decisions parents have to make on behalf of their entertainment children. This ground-breaking book will ensure that parents never again sign an entertainment-industry contract without knowing what it means or knowing what questions to ask. It also covers essential information, such as not only the practical, but legal differences between talent agents and talent managers, avoiding scams and predators, what makes children so different in Hollywood, the best ways to exercise control as a parent, how much entertainment kids can expect to earn in movies, television series, and commercials, understanding the flow of income and earnings, and what to do if a dispute arises between your child and one of his or her representatives.
This is not just another book about how to select the perfect headshot for your child, or how to shine at an audition. It's the perfect resource for navigating through the maze called Hollywood, and, more importantly, protecting your children on their way to stardom. It also includes a Foreword by Caitlin Sanchez, former voice actress of Dora the Explorer.™
"It's about time this book was written. Finally, someone had the courage to empower parents to protect their entertainment children when entering contracts with talent managers, talent agents and entertainment lawyers. Rob is the ideal ambassador to courageously stand up and finally get this message out for all to see and hear. This book will be huge in protecting children in the entertainment business." —Lou & Carla Ferrigno
Robert Pafundi has, for more than 25 years, represented children and young adults in Hollywood, both as a lawyer and as the owner of the Mary Grady Talent Agency. He has negotiated contracts and represented actors and actresses and other performers in contract negotiation for major Network TV and major motion pictures. He has also acted as lead counsel in an array of lawsuits in entertainment lawsuits, many involving children and young Hollywood. Mr. Pafundi resides in Los Angeles, California.