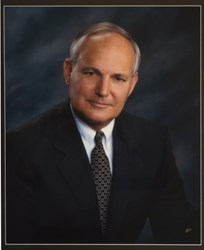 'Dean Hoffsis is a very experienced academic leader who is well-known in the profession,' said LMU President B. James Dawson. 'He has the knowledge and skills needed to continue the establishment of our College of Veterinary Medicine.'
Harrogate, Tennessee (PRWEB) February 04, 2014
Lincoln Memorial University (LMU) President B. James Dawson has announced the appointment of Dr. Glen F. Hoffsis as dean of LMU's College of Veterinary Medicine (LMU-CVM) and associate Vice President of Health Sciences. The appointment is effective July 1, 2014.
Hoffsis has been serving as a consultant to LMU-CVM for the past several months. Hoffsis retired as dean of the College of Veterinary Medicine at the University of Florida in July 2013 after serving in that capacity for seven years. He also has served as the dean of the College of Veterinary Medicine at The Ohio State University for 11 years and held a leadership position with P&G Pet Health and Nutrition. Early in his career Hoffsis was a faculty member at The Ohio State University and served in several leadership roles, including director of the teaching hospital. He has held many professional positions, including president of the American Association of Bovine Practitioners, chair of the FDA Center for Veterinary Medicine Advisory Committee and president of the Association of American Veterinary Medical Colleges. Hoffsis currently serves on the board of directors of Banfield Pet Hospitals of Portland, Ore., and Live Oak Bank of Wilmington, N.C. He is a diplomate of the American College of Veterinary Internal Medicine.
"Dean Hoffsis is a very experienced academic leader who is well-known in the profession," said Dawson. "He has the knowledge and skills needed to continue the establishment of our College of Veterinary Medicine and make the vision of providing veterinary medical education in the Cumberland Gap region a reality. LMU is indeed fortunate to gain the services of a leader with Dean Hoffsis' background. We appreciate the leadership and hard work from current Dean Randy Evans, and look forward to his continuing services as associate dean and member of LMU-CVM's senior leadership team."
LMU-CVM will be an integral part of the LMU Division of Health Sciences, which includes LMU-DeBusk College of Osteopathic Medicine, the Physician Assistant Program, the Caylor School of Nursing and the School of Allied Health Sciences, which includes a Veterinary Medical Technology Program. As such, in addition to its veterinary faculty and facilities the College will share resources available to the other disciplines within the Division. The college is slated to open in August 2014.
"I'm excited to have the opportunity to create an innovative program from square one," Hoffsis said. "This is a rare opportunity to institute new concepts in veterinary education."
Lincoln Memorial University's College of Veterinary Medicine is located on the LMU main campus in Harrogate, Tenn., with additional academic facilities in nearby Lee County, Va. LMU-CVM is an integral part of the University's Division of Health Sciences and provides real-world, community-based education in a collaborative learning environment. For more information about LMU-CVM, call 1-800-325-0900, ext. 7150 or visit us online at vetmed.LMUnet.edu.