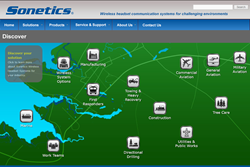 Wireless headsets not only create a safer work environment; in our experience they also keep team members focused and reduce down time.
Portland, OR (PRWEB) February 05, 2014
Sonetics Corporation, a leading global supplier of wireless headsets and communication systems, today announced its "Discover Your Solution" initiative. The initiative involves a major restructuring and optimization of its website, http://www.soneticscorp.com, which features customer-focused improvements in navigation and product search, an expanded array of safety and productivity resources, and makes it even easier for users to find the best team communication system for their needs.
"'Discover your solution' expands our dialogue with our customers," said Julie Steding, marketing manager for Sonetics. "Our customers asked us for a tailored user experience on soneticscorp.com. We were pleased to develop this new industry-specific look at Sonetics communication products with their input."
As part of the initiative, http://www.soneticscorp.com has been significantly restructured around specific markets, allowing users to focus immediately on the communication needs unique to their industry. Users will find a wealth of additional industry-specific resources, including videos, white papers, case studies, safety and productivity information, and a list of upcoming conferences and trade shows.
"Most of our competitors focus on their products," Steding said. "We believe it is more useful and productive to focus on specific industries, and how better communication can help work teams within those industries stay safer and accomplish more in less time."
Sonetics designs and manufactures wireless headsets and communication systems for a wide variety of applications, including aviation, construction, directional drilling, first responders, manufacturing, marine, towing and recovery, tree care, and general work teams. Wireless headsets significantly reduce background noise and allow all team members to communicate clearly and easily. Sonetics headsets fit over the ear for hearing protection and are outfitted with a boom microphone and ear speakers to allow hands-free voice transmission and reception through a mobile base station. Systems can also be connected to a two-way radio, allowing communication with remote users.
"Studies in occupational health and safety have consistently shown that most workplace accidents are at least partially caused by poor or non-existent communication," said Simon Broadley, vice president of engineering. "Wireless headsets not only create a safer work environment; in our experience they also keep team members focused and reduce down time. Continuous and instantaneous communication goes a long way toward making teams more cohesive and productive," he added.
Twice-named by Inc. magazine as one of America's 500 fastest-growing private companies, Sonetics, together with its Firecom and Flightcom divisions, helps more than 500,000 customers in 90 countries hear and be heard under challenging circumstances. Visit http://www.soneticscorp.com/discover or call 800-833-4558 for more information.