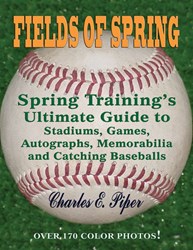 Spring Training is the next best thing to heaven because fans have opportunities to watch exhibition games up close, chase foul balls, get autographs, and meet the players.
Friendswood, TX (PRWEB) February 05, 2014
TotalRecall Publications, Inc. announced today -- just prior to the start of the 2014 Spring Training Season -- publication of the ultimate family trip-planner and baseball collectors' guide to vacationing at any of the 15 Major League Baseball camps in Arizona's Cactus League and the15 in Florida's Grapefruit League. The book includes hundreds of insights and insider tips not found on the Internet and lists a large number of websites for additional information.
Charles E. Piper, author of 'Fields of Spring: Spring Training's Ultimate Guide to Stadiums, Games, Autographs, Memorabilia and Catching Baseballs,' has personally visited every spring training complex. He chronicles the full, fun, family experience with 170 new, historic, and nostalgic color photos and gives hundreds of insider tips (called 'Foul Tips') for the best times and places get ball, bat and other autographs; meet players; see old-timers play; get ticket costs and schedules; plan trips and hotel stays; and create unique display cases and wall hangings for your treasured memorabilia.
An example of Piper's friendly, "been there, done that" insider tips show up in his explanation of why baseball practice fields are often the best places to get autographs:
1) Fewer fans come to the practice fields vs. the stadiums on game day.
2) You're not confined to your assigned seat and can actually approach the players.
3) Players don't seem to mind signing early during the Spring Training Season, perhaps because they've had the winter off.
4) Players usually can't avoid walking directly by fans as they walk to and from the practice fields.
He offers many other practical tips from lots of successful experience in collecting autographs from favorite players:

Ask awarded players to include abbreviations of their awards following their signatures, such as 'AL MVP 2005' for American League Most Valuable Player, or 'HOF 2009' for Hall of Fame. Sometimes they do; sometimes they don't. Say thank you either way.
Make it easier for a player to sign your item. Have your pen's writing tip facing opposite the player's hand. Hold a ball between your thumb and index finger and then have your pen sticking out between your index and middle fingers. If you're back in the second or third row, turn to your side and stretch out one arm holding both the ball and pen. You'll get your hand much closer to the player instead of trying to get two arms over other fans.
Always use a ball-point pen – not a marker -- on a ball. Use markers on just about everything else -- especially photos and baseball cards. Blue markers sometimes fade while black markers tend to leave a yellow halo over time. Instead, consider a black Sharpie autograph pen.
Magazine covers, newspaper articles, cereal boxes and other paper items with players' pictures make very economical and interesting autographing items. Bring them along for signing.
'Fields of Spring' is an up-to-date baseball collector's guide and family vacation planner designed to help fans get the most out of visits to Major League Baseball's Spring Training parks. Visit the Fields of Spring website for a video and more information.
During the last 20 years Charles Piper has visited, often multiple times, each of the 30 Major League Baseball Spring Training stadiums and complexes in both Florida and Arizona. He proudly shares his photos, insights and tips for fans to get the most of Spring Training baseball. He served 30+ years in law enforcement, including 20 as a Federal Agent, and currently owns his own company providing investigative, consulting, and training services. He is also an Army veteran.
TotalRecall Publications Inc. was founded in 1998 by Bruce Moran, a former NASA IT professional who transitioned into computer instruction and educational materials. The company began with the introduction of study guides and Q&A testing software for various computer and financial certification exams and expanded into library and information science textbooks in 2007. Since 2008, the publisher has been developing a fiction product line by debut authors that focuses on mysteries, thrillers, and military action. Additionally, TotalRecall has expanded into general nonfiction and now publishes more than 200 non-fiction and fiction titles, all distributed worldwide through book retailers and wholesalers and via eBook databases such as ebrary, EBSCO, and Books24x7.com. http://www.totalrecallpress.com