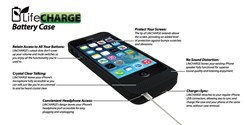 iPhone 5/5s battery case.
Dallas, TX (PRWEB) February 05, 2014
On January 4, 2014, iPhoneFAQ.org (http://www.iphonefaq.org/archives/973174) reported that the Super Bowl would be available for live streaming on the iPhone. With a three and a half hour running time (not including the pre- and post-game festivities), however, if those viewers didn't have full battery power at the outset, they might have found their iPhone running out of juice in the midst of the action. The new LifeCHARGE battery iPhone 5 case from LifeCHARGE was designed to prevent just such disappointments from happening.
According to the iPhone news website, the Super Bowl was slated to be "freely available at foxsportsgo.com and on their mobile app." That app was designed to be "compatible with the iPhone, iPad and iPod but is optimized for the iPhone 5." With 10 hours of video streaming capabilities, the LifeCHARGE battery iPhone case easily takes football fanatics from the Puppy Bowl, to kickoff, all the way to the presentation of the Vince Lombardi Trophy with ease.
For more information about how a LifeCHARGE iPhone case can prevent Super Bowl viewing disappointments, contact OnTrion's Palki Kochar. To learn more about the LifeCHARGE iPhone 5 battery case, visit the manufacturer on the web at http://www.ontrion.com/lifecharge.
###
CONTACT INFORMATION:
LifeCHARGE
13650, TI Blvd., Suite #309
Dallas, TX 75243
(877)676-0877