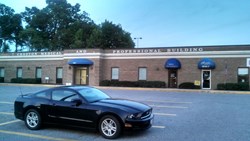 I visited Larry & Sondra Lambert at Galaxy Hypnosis in the hopes of getting some relief from the chronic pain I have been dealing with. I have to say..I woke up this morning for the first time in months ready to take on the day. Tina H…. Pasadena, MD
Crofton, MD (PRWEB) February 04, 2014
Galaxy Hypnosis is a client-centered solution-based counseling service that provides healthy change opportunities. We can help you remove outdated and unwanted habits, enhance your study skills, improve your sports or academic performance, stop smoking, lose weight, better handle stress, overcome fears, focus better, and so much more. A hypnosis session at Galaxy Hypnosis starts with a discussion of the client's goals and concerns. Once the client is in hypnosis, the hypnotist gives the subconscious mind suggestions designed to make the desired changes.
Galaxy Hypnosis staff members also work with doctors and therapists, as Consulting Hypnotists, to provide complementary holistic treatments for pain management, diabetes, fear/phobia release, Post Traumatic Stress (PTS), and Irritable Bowel Syndrome (IBS), to name just a few applications.
The hypnotists at Galaxy Hypnosis are graduates of the Omni Hypnosis Training Center of Deland, Florida. They are also members of the National Guild of Hypnotists. It was after Larry's training at Omni that he decided he wanted to instruct future hypnotists in how to help others. He believes that the step-by-step training provided by Omni Hypnosis Training Centers is the proper foundation for a professional and ethical hypnotist.
About Omni:
Omni Hypnosis Training Centers® today are global leaders in hypnosis training. Gerald Kein is the founder of the original Omni Hypnosis Training Center® in DeLand, Florida. Having trained thousands of hypnotists and hypnotherapists in over eighty countries, he is widely recognized as one of this country's leading instructors of clinical hypnotism. There are Omni training centers in the United States, Germany, South Korea, the Netherlands, Romania, Slovenia, and Switzerland. The Omni Hypnosis Training Center® of Washington, DC works to provide the best hypnosis certification training and continuing education options for practicing hypnotists. For more information you can call us at 301-202-3605, or visit our website at http://www.omnihypnosis-dc.com, or our offices which are co-located with Galaxy Hypnosis in the Crofton Medical and Professional Building located at 1667 Crofton Center, Suite 4, Crofton, MD 21114. This training location is within a 2-hour drive of 4 international airports. Lodging accommodations are plentiful in the area and some are recommended on the website.