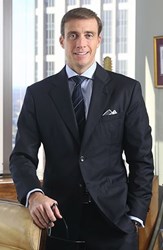 Atlanta, GA (PRWEB) February 04, 2014
The Academy of Economics and Finance (AEF) is pleased to announce that Mr. Justin Redfearn McLain will be the J. Anderson Davis Lecturer at the 51st annual meeting to be held in Chattanooga, Tennessee on February 14th 2014. The conference is taking place at the Chattanoogan Hotel starting Thursday, February 13th and ending Saturday, February 15th. McLain's keynote will begin at noon on Friday, February 14th 2014.
The Academy of Economics and Finance (AEF) creates and disseminates of knowledge in economics and finance through encouraging theoretical, empirical, applied, and educational research as well as faculty development through its teacher training program. Mr. McLain will speak to the members of the Academy about the practical application of what is taught in academia to real life business with the focus on the signifiance of educators' personal impact on students.
Justin McLain has an impressive track record as a community leader and business executive. Over the years, McLain has collaborated with the College of Charleston's School of Business on projects such as first ever endowed faculty award for service leadership, business community outreach programs in entreprenuer education, the Student Investment Program, microfinance study abroad programs to Honduras/Dominican Republic, and student mentoring. McLain is often on campus as a guest lecturer for graduate and undergraduate business classes, sharing his insights on career development, entrepreneurship, business strategies, and leadership.
As Duart Mull's Managing Partner, McLain is responsible for directing the investment activities of the funds held in its trust. McLain's duties include: evaluating new investment opportunities, overseeing the activities of the outside fund managers, directly managing the firm's private equity placements, enhancing the enterprise value of Duart Mull's portfolio companies through active strategic involvement, and fostering investor and community relationships.
In addition to his position at Duart Mull, McLain is Executive Chairman of Endeavor and serves on boards for numerous corporations throughout North America and several academic and philanthropic organizations. McLain is a member of the Southern 7 chapter of The Young Presidents' Organization (YPO), serves on the AngelPool Southern Region Judging Committee, and is actively involved in mentoring and investing in entrepreneurs.
Mr. McLain has been repeatedly honored as a Fast 40 company leader as well as an Ernst & Young Entrepreneur of the Year Finalist, and was named as one of Atlanta's Top 25 Entrepreneurs by Business to Business Magazine.
Mr. McLain is a member of The College of Charleston's Foundation Board, serving on its Audit, Finance, and Investment Committees. McLain also serves on the Board of Governors of The School of Business at The College of Charleston, including serving on its Nominating & Governance Committee and the Student Development Committee. In 2010, The College honored McLain with the Howard F. Rudd Business Person of the Year Award.
Mr. McLain earned a Bachelor's degree in Business Administration, with a minor in Economics, as well as a Bachelor's in Biology, from the College of Charleston. He was also a scholar of Asian languages, with a dual language focus in Mandarin Chinese and Japanese. Currently, Mr. McLain maintains residence in Atlanta, Georgia.
About The Academy of Economics and Finance
The Academy of Economics and Finance is a nonprofit organization whose mission is to promote the creation and dissemination of knowledge in economics and finance. The AEF accomplishes this through their annual conference held in February of every year since 1963, through their encouragement of theoretical, empirical, applied and educational research. The Academy supports faculty development through its teacher training program. The AEF publishes the Journal of Economics and Finance, the Journal of Economics and Finance Education, and the Academy of Economics and Finance Journal, as well as conference papers and proceedings. More information about the organization can be found on the AEF website, http://www.economics-finance.org
About Duart Mull
Headquartered in Atlanta, GA, Duart Mull is a capital management firm that, in addition to overseeing the investment activities of the funds held in its trust, actively manages the private equity allocation of its portfolio through the direct placement of growth capital and the syndication of value-added co-investments and buy-outs. In coordination with its investment activities, Duart Mull provides active strategic management advisory services to its portfolio of companies and affiliates. Duart Mull's general investment criteria seeks entrepreneurial companies that have a well-developed product or service, a growing customer base, and existing revenue from $250,000 to $50,000,000. http://www.duartmull.com
Contact Information:
Dr. Kath Henebry
Secretary, Academy of Economics and Finance
Dept. Finance, Banking and Real Estate
University of Nebraska Omaha
228B Mammel Hall
6708 Pine St
Omaha, NE 68182-0048
PH: 402-554-3153
EMAIL: khenebry(at)unomaha(dot)edu