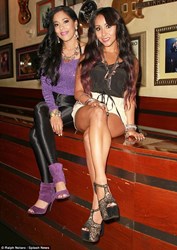 Miami, FL (PRWEB) February 04, 2014
The wheels were set in motion last December when MTV star Nicole "Snooki" Polizzi signed Miami Pop artist AdELA to her branding company, Team Snooki Music. AdELA reached out to Nicole "Snooki" Polizzi through twitter and, although she has over six million followers, she listened to the demo and signed AdELA to her company. AdELA's "Off the Burner" EP is a mix of high energy dance, feel good pop, and a touch of Hip Hop. The first single "Live On" was released on January 27th and was written and co-produced by AdELA after the loss of a close friend. Nicole and AdELA asked their fans to get involved in the official video for "Live On" (http://youtu.be/_Op5CvPtezI) by submitting photos of a lost loved one. On February 2nd the official video aired on YouTube and fans were honored to see a collage of all the submitted photos which are individually projected as AdELA sings.
"Off the Burner" is an eclectic mix of high energy dance, feel good pop, and a touch of Hip Hop, with samples from Daft Punk and the 1983 Real Life hit, "Send Me An Angel". "My music has no barriers, I make the type of music I am feeling in the moment and I pull sounds from all genres. As an artist, you have to have an open mind, a creative vision, and the will to take risks in order to build your own brand". ~AdELA
The EP was created by a group of super producers including Grammy Award Winner StreetRunner, Vinny Venditto, and Instinctz Beats, and the music video production is courtesy of GTPS Media. "Off the Burner" will be available on iTunes on March 21, 2014. For more information contact Domenick Nati of Nati Celebrity Services at NatiCelebs(at)gmail(dot)com.
About Nicole "Snooki" Polizzi & Team Snooki Music
Nicole "Snooki" Polizzi is the New York Times best-selling author of A Shore Thing, Confessions of a Guidette, Gorilla Beach, and her recent release Baby Bumps. Famous for her trend-setting "pouf" hairstyle, her small stature, and her acrobatic moves on the dance floor, Nicole is the breakout star of MTV's Jersey Shore, the highest-rated show in the network's history. Polizzi's show Snooki & JWoww chronicles her friendship with Jenni "JWOWW" Farley as they deal with their ever changing lives and relationships. She has been parodied on Saturday Night Live, appeared on almost every major talk show, and was featured in The New York Times. Her constantly expanding brand includes "Snooki" by Nicole Polizzi, "Snooki Couture", Team Snooki Boxing, Team Snooki Music, and her retail collection includes slippers, sunglasses, tanning and sunless lotions, headphones, phone/tablet accessories, apps, handbags, fragrances, sandals, boots, beauty products, and an upcoming clothing line "Snooki Couture." Visit Nicole "Snooki" Polizzi online at http://www.SnookiNicole.com and Team Snooki Music online at http://www.TeamSnookiMusic.com.