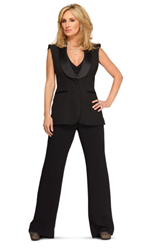 New York, NY (PRWEB) February 03, 2014
Second Stage Theatre is a non-profit, New York theatre that produces a diverse range of premieres and new interpretations of America's best contemporary theatre.
The All-Star Bowling Classic is an uproarious evening that raises hundreds of thousands of dollars for Second Stage's artistic and educational programs.
THE BASIC DETAILS
Date: Monday, February 3, 2014
Venue: Lucky Strike Lounge and Lanes Manhattan
Location: 624-660 West 42nd Street (42nd Street and 12th Avenue)
WHAT'S IT ALL ABOUT?
90 minutes of bowling hoopla with a premiere list of New York residents: stars from the screen and stage, high net worth individuals, and senior executives and employees from notable corporations. Corporations purchase bowling lanes ($12,500 or $15,000 per lane) and each team's lane is spear headed by a Celebrity Team Captain for a riotous evening of bowling. Food and beverage, bowling shirts, snazzy Second Stage swag, and transportation to and from the venue are provided for all artists.
WHO'S WHO
Recent Celebrity Team Captains: Kevin Bacon, Alec Baldwin, Drew Barrymore, Matthew Broderick, Tony Danza, Robert de Niro, Matt Dillon, Peter Gallagher, Victor Garber, Ana Gasteyer, Lauren Hutton, Jeremy Irons, Nathan Lane, Aasif Mandvi, Julianna Margulies, Cynthia Nixon, Tatum O'Neal, Bill Pullman, Phylicia Rashad, Susan Sarandon, Kyra Sedgwick, Chloe Sevigny, Sherri Shepherd, Gary Sinise, John Slattery, Stanley Tucci, Henry Winkler…and the list goes on!
TIMING IS EVERYTHING
6:30 PM Check in at VIP Lounge at Lucky Strike Lanes to relax and get situated before joining the big party.
7:00 PM Celebrity Team Captains participate in the "tournament bowl," which is the length of one bowling game. The game is followed by a trophy ceremony.
8:30 PM Trophy Ceremony concludes & event commitment ends. Celebrity Team Captains may leave at this point, though they are welcome to stay for Moonlight Bowling.
8:30 - 10:00 PM Moonlight Bowling: an informal bowling tournament where individual competitions occur. Participants win prizes such as restaurant gift cards and Broadway show tickets.
For information on Sonja Morgan, contact Domenick Nati at NatiCelebs(at)gmail(dot)com.