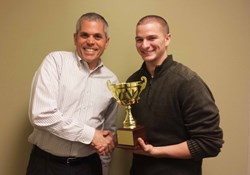 It's encouraging to be recognized in everything we do. I anticipate continual growth for AHP this year. - Jake Laffey
Chicago, IL (PRWEB) February 04, 2014
American Homeowner Preservation ("AHP") announced today that Jake Laffey has been recognized as Employee of the Month for January 2014. Mr. Laffey has worked with AHP since August 2012, allocating his skills to the role of Asset Manager. In his functions, Mr. Laffey works with homeowners to provide them with options, such as modifications, to keep them in their homes.
Chicago-based AHP purchases pools of distressed mortgages from banks at big discounts, offering homeowners sustainable solutions to stay in their homes. Mr. Laffey has been a great asset to the company, and achieved the greatest number of successful outcomes in January.
He explains, "It's encouraging to be recognized in everything we do. I anticipate continual growth for AHP this year." As a graduate of North Park University, Mr. Laffey earned his Bachelor's degree in Economics with a concentration in Finance. He served as Associate Asset Manager prior to his current role. The nomination process included recommendations from the entire staff. "AHP offers its heartiest congratulations to Mr. Laffey on being honored as the first employee of the month this year," said Jorge Newbery, AHP's Founder and CEO.
American Homeowner Preservation was established in 2008 as a nonprofit organization before transitioning to for profit. Today, AHP creates opportunities for investors to strengthen families and communities through high yield distressed mortgage investments.
For more information about American Homeowner Preservation, please visit our website at http://www.ahpinvest.com, call (800) 555-1055 or email us at info(at)ahpinvest(dot)com.