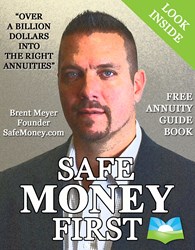 "Jane Bryant's column in this month's issue of AARP Bulletin failed to even mention annuities as a guaranteed retirement strategy, focusing only on investments that carry a risk of losing value over time."
Cherry Hill, NJ (PRWEB) February 04, 2014
AARP financial columnist Jane Bryant Quinn, in the January edition of AARP Bulletin, recommends that retirees invest more money in the stock market. Safemoney.com Wealth Planner Brent Meyer disagrees, explaining that annuities offer a safer alternative and can provide guaranteed lifetime income.
"People are living longer, some well into their 100's. For those who don't want or can't afford to risk losing their retirement accounts, annuities are a smarter choice than stocks," Meyer reports. "They're often called 'longevity insurance,' because there are annuities that can provide income you can't outlive."
Five different types of annuity products are available today, each with its' own benefits for investors. Using his 13 years of experience in the financial industry, Meyer has authored an e-book guide filled with 32 pages of information to help investors select the annuity that is best for their financial future. The book is available for free download at safemoney.com. The website was founded in 2012 with the main objective of providing sound advice through a network of trustworthy financial advisors who have their clients' best interests at heart.
"An article entitled "Securing Income For Life" that doesn't mention annuities is irresponsible journalism," said Meyer. "Investing in the stock market has its place in most financial portfolios, but because there's so much risk involved, people planning for retirement, or recently retired, should consider the risk-free guaranteed income an annuity can provide. Jane Bryant's column in this month's issue of AARP Bulletin failed to even mention annuities as a retirement investment strategy, focusing instead on mutual funds and stock, both of which carry a risk of losing value over time. I think she was remiss in not mentioning that there's an insurance product out there that can guarantee income for life, no matter how long you live."
Jane Bryan Quinn's article, "Financially Speaking: Securing Income For Life" can be found in the January/February, 2014, edition of AARP Bulletin, or online at http://www.aarp.org/money/investing/info-01-2014/secure-your-retirement-income.html
An annuity is the only vehicle that can pay a guaranteed lifetime income and can last as long as the investor lives, or for a specified time period. It is not a life or health insurance policy; neither is it a savings account or certificate of deposit.
"Annuities are unique, and can offer a variety of options. You can schedule a monthly or annual income that lasts as long as you live, or longer, as payments to your beneficiaries," said Meyer. "You can guarantee your interest rate for the rest of your life as a hedge against inflation. You can set up an annuity to assure your expenses are covered whether you live 10 or 40 years – or even longer – after retirement."
Fixed, fixed-index and multi-year guarantee annuities provide guaranteed interest rates and tax deferment, and SPIAs provide immediate income. The only annuity with market risk is the variable annuity, which provides the greatest potential for gain but also the greatest chance of loss.
"Many misconceptions about annuities have been created by the media," Meyer said. "Annuities can be a stable foundation to your retirement, as long as you educate yourself and work with a financial advisor you can trust. Your advisor should be independent, not pushing annuity products from a single insurance company but instead helping you determine which of the various products will work the best for you."
Safe Money Resource and SafeMoney.com showcase the best, most trustworthy independent financial advisors within their independent network.
"The difference between Safe Money Resource and the big insurance companies is that we offer you the expertise and resources of the best independent insurance carriers across the country, not just the special interests of one company," said Meyer. "All advisors have been pre-screened to ensure they work hard for the long-term financial safety and security of seniors, not for the commission. The website provides everything pre- and post-retirees need to get started on the road to safe, secure financial planning."
SafeMoney.com is comprised of a small, independent group of licensed fixed-index annuity experts and gives information-seekers age 50 and older solid financial-planning resources on everything they need regarding financial safety, principal protection, retirement and income planning.
To get the free e-book on annuities, visit http://www.safemoney.com and click on the 'Free Guide' tab. Enter your information and e-mail address and the free guide will be sent to you in an easy-to-read PDF format or download on your Kindle. There is no obligation and all information entered remains private.
ABOUT SAFE MONEY RESOURCE
Safe Money Resource is a much-needed resource for the Baby-Boomer generation of retirees and is comprised of independent agents who are defined by their integrity, knowledge and ethics. Safe Money Resource operates on the belief that education is empowerment.