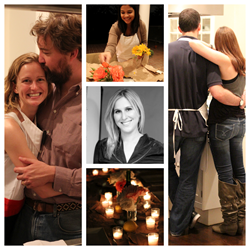 The possibilities for spontaneous romantic gestures in the privacy of your own kitchen are endless.
Beverly Hills, CA (PRWEB) February 04, 2014
The goal is that both the men and women learn to feel equal ownership of the kitchen.
The Valentine's Date Night is designed to evoke the women's femininity and turn the guys into heroes. Steak is on the menu and the men are the designated grill masters while the women are taken into the garden to create a handmade romantic table-setting flooded with candles. "There's nothing like trust and making meat to swell the virility in a pack of males" says Horwich.
Meal and a Spiel's couples classes are in response to the enormous disconnect between romance and cooking in our society. Date nights are relegated to restaurants and the romantic gestures of dressing sexy and paying the bill are expected. Meal and a Spiel believes that the possibilities for spontaneous romantic gestures in the privacy of your own kitchen are endless. "It could be a lean into your partner's side to see what he or she is working on or an unexpected pinch of the tuchus. My aim is to release the stress of couple's cooking together so they can freely experience these gestures," says Horwich.
"It's no longer a chore. It brings humor and lightness to cooking," says couples class student Danielle Eisenberg. "The classes give me the confidence to welcome my husband into the kitchen. It's super romantic! It's important. It creates connection."
On the menu:
Bresaola Bites with Manchego and Arugula
Roasted Tomato Crostini with Burrata
Sliced Steak with Arugula, Shaved Parmigiano and a Balsamic Reduction
Baked-Not-Fried Little Italian Potato Sticks with Rosemary and Thyme
Once You Go Black Flourless Chocolate Cakes a la Mode
In addition to their annual Valentine's Date Night Cooking Class, Meal and a Spiel offers private romance-building cooking classes for groups of 6 couples throughout the year. Meal and a Spiel is a Los Angeles based cooking school and online resource for recipes, videos, and health information that successfully teaches "the career girl generation" to cook with passion. Founded in 2010 by former high school history teacher and comedienne Elana Horwich who learned to cook while living in Italy, Meal and a Spiel believes in the power to transform the world one love-filled meal at a time. Please visit MealandaSpiel.com.