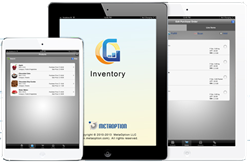 GOIS is a clear choice and solution for businesses facing challenges during demand and inventory planning, with standardizing data, controlling operational inefficiencies and customer vendor management plus many more challenges while managing inventory.
Jersey City, NJ (PRWEB) February 05, 2014
MetaOption LLC, a pioneer in software and application development, releases its newest version of its popular SaaS inventory management system, Goods Order Inventory System ("GOIS"), developed for e-commerce sites and for small to mid-size businesses ranging from Manufacturing to Wholesale Distributors and Logistics Industries.
GOIS Standalone is a free and powerful application that enables users to digitally maintain, manage and track inventory effortlessly whether online or offline, on any web browser, iPhone, tablet, or android device anytime, anywhere. MetaOption also offers a paid version, GOIS Pro, with monthly, customizable plan rates with many additional enhanced features not available on its Standalone version. In addition, MetaOption offers a custom service solution uniquely tailored to a business' needs and requirements called GOIS Pro Enterprise.
GOIS Pro new features include:

Multiple User(s) Compatibility
Organization(s) Management
Multiple Business Unit(s) Allocation
Location(s) Management
Inventories Management
Product(s) Management
Currencies and Time Zone(s) Management
Multiple Transactions Reports
Multiple platform Compatibility
Vendor(s) Management
Unlimited Cloud Storage
Efficient Customer Management
Online/Offline Mode
Enhanced Measurement Units and many more powerful features presented along with flexible web and mobile user friendly interfaces
"MetaOption is proud to have GOIS as part of its product portfolio. The response to the launch of GOIS has been incredible. GOIS is a clear choice and solution for businesses facing challenges during demand and inventory planning, with standardizing data, for controlling operational inefficiencies, and customer vendor management, etc., while managing inventory and stock levels," says MetaOption's CEO, Naushad Ahmed.
GOIS is available on iTunes, Google Play and other fine App stores.
About MetaOption:
Established in 2005 with a unified objective of providing top-tier, end-to-end global IT support services, MetaOption has positioned itself as a highly cost-effective, strategically integrated technology partner to an ever growing list of high-performing companies in various business verticals. We serve customers in various industries including Automotive, Non-profit, Information Technology, Publishing, Financial Services, Entertainment, Finance, Telecommunication etc. MetaOption has offices in Jersey City, NJ; San Jose, CA; and India.
We provide programming services on Microsoft Technologies (.Net, C#, SQL Reporting Services, SQL Server, Dynamics CRM, Dynamics NAVISION - NAV, SharePoint - MOSS), Apple (Objective C, Cocoa), Adobe (Adobe Forms, InDesign/Photoshop plug-in development, ColdFusion), C++, Qt, Open Source (PHP, Zend, Drupal, CakePHP, CS-Cart, MySQL), Handheld (Google Android, Blackberry, iPhone/iPad), Business Intelligence, Oracle Identity Management, IBM FileNet and other technologies.
In addition to GOIS, MetaOption offers many other products including an Attendance & Leave Management System, SharePoint Case Management System, Amazon Integrator, SharePoint Recruitment Management System, Tower Box 3D, Chasing Frenzy, Photo express, Security Alert Meltdown and many more creative out of the box applications.
For more information or investor relations, contact:
MetaOption, LLC
Naushad Ahmed, CEO
574 Newark Ave, Ste. 210
Jersey City, NJ 07306
(201) 377-3150
MetaOption: http://www.metaoption.com
GOIS: https://www.goodsorderinventory.com
GOIS 24/7 Support: support(at)goodsorderinventory(dot)com
The app is available as free/paid for download from Apple's iTunes and Google Play Store:
https://itunes.apple.com/us/app/goods-order-inventory-system/id734289196?mt=8
https://play.google.com/store/apps/details?id=com.metaoption.goodsorder
Find GOIS-PRO Plans and Pricing Information: https://www.goodsorderinventory.com/ProSubscription/PlansAndPricing
Check GOIS-PRO Advanced Features: https://www.goodsorderinventory.com/Product/FeatureComparison