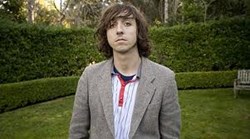 Pasadena, CA (PRWEB) February 05, 2014
Pasadena Recovery Center is pleased to welcome New York Times best selling author Nic Sheff to their groundbreaking speaker series on Wednesday, February 12th, at 12pm. He will be speaking about his struggles with addiction and his battle in overcoming the disease.
Sheff is the author of two groundbreaking books:' Tweak: Growing up on Methamphetamines' and 'We All Fall Down: Living with Addiction'. Both have been heralded as raw and harrowing.
Pasadena Recovery Center Speaker Series hosts amazing authors, entrepreneurs, celebrities, and experts to talk about their personal experiences with addiction and the way it has affected both themselves and the people around them.
PASADENA RECOVERY CENTER: Is a 98-bed drug and alcohol treatment center located in the charming historic district of Pasadena that was co-founded in 2000 by renowned psychiatrist Dr. Lee Bloom, his daughter, Criminal Defense Attorney Alison Triessl, and his son, Michael Bloom. Known for its 12-step based comprehensive treatment program, Pasadena Recovery Center is dedicated to providing compassionate, comprehensive, and affordable care to those suffering from chemical dependency. 1811 N Raymond Ave Pasadena, CA 91103
NIC SHEFF: Spent much of his childhood bouncing back and forth between the San Francisco Bay Area and Los Angeles. He began using alcohol and drugs early on, even before his teen years, and by high school he was a regular user of ecstasy and cocaine. Living on the street for much of the time, Sheff became involved in various destructive behaviors such as selling drugs and working as a prostitute in order to support his addiction. Eventually, faced with the choice of jail or rehab, Sheff dropped out of college to seek treatment, at which time he was also diagnosed with bipolar disorder. He later went on to write 'Tweak' and 'We All Fall Down: Living with Addiction', both of which were welcomed to rave reviews and remain prominent accounts of what it's like to deal with addiction. His writing has been published in Newsweek, Nerve, and the San Francisco Chronicle.