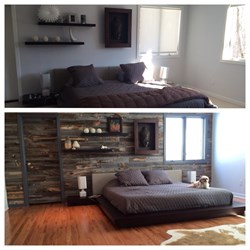 "Is Stikwood easy to use? Of course it's easy to use...believe the hype."-Adam Holtz
Sacramento, CA (PRWEB) February 06, 2014
Adam Holtz, films his most recent DIY home project on YouTube that may inspire your next Stikwood project. A full review with an added time lapse segment gives viewers an idea at what a few tools and some Stikwood can achieve.
After his first smoothly executed Stikwood project, Holtz decided he couldn't resist but to try it in his bedroom.
At first glance, applying Stikwood can seem like a daunting task; though, Holtz begs to differ. He explains in his video, "This stuff practically puts itself up!"
After searching for videos to help guide his project, he decided to make his own to show just how fast a Stikwood project can take, in just under 5 hours.
The wood he used is a reclaimed weather wood. Although, there are 11 different types of wood available ranging from reclaimed wood, to bamboo and a reclaimed wine barrel oak wood. All Stikwood materials are 100% recyclable, VOC-free and made in the U.S.A.
It compliments beautifully in any space and will have your guests asking, "How did you do that?"
Have you ever completed a project using Stikwood? Share your photos and videos on Twitter and Facebook and let others see how it transformed your space!