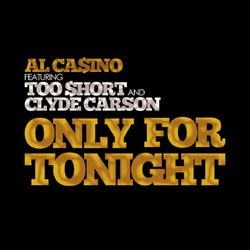 Los Angeles, CA (PRWEB) February 04, 2014
After taking Oakland by storm via highly original and eclectic underground mix-tapes, Al Ca$ino continues The Bay's long tradition of breaking the "next big thing." Only this time around, Ca$ino shoots for universal appeal, hitting the target dead-on with his first new single, "Only For Tonight," featuring Oakland powerhouses Too $hort and Clyde Carson.
One of The Bay's first immense successes, Too $hort, went from selling tapes out of his car during the 80's to being known as one of the pioneer rappers of West Coast Hip Hop. That title was solidified with a slew of gold and platinum releases, including hit tracks "The Ghetto" and "Blow The Whistle," and collaborations with Tupac Shakur, The Notorious B.I.G., and Scarface.
Oakland's Clyde Carson is an integral member of Hip Hop Hyphy group "The Team." The group is best known for their local hits "It's Gettin' Hot" (2004) and "Hyphy Juice (The Remix)" (2006). The Team re-gained popularity in late 2005 after dropping the singles "Just Go" and "Bottles Up" to promote their new album, "World Premiere," which peaked at number 95 on the Billboard Top R&B/Hip-Hop Albums, and number 50 on the Billboard Top Independent Albums.
"Working on this record was the most fun I've had in the studio in years. Jared Lee Gosselin is to me what Noah '40' Shebib is to Drake and I look forward to creating some more slaps for the people to enjoy. "Only For Tonight" is just the beginning," says Ca$ino.
In addition to Al Ca$ino's infectious sound and solid musical collaborations, "Only For Tonight" gains another layer of mainstream sheen from super-producer/engineer/mixer Jared Lee Gosselin, whose bevy of impressive credits includes Macy Gray's "The Sellout," India Arie's "Testimony: Vol. 2, Love and Politics," and DMC's "Rock Solid." Gosselin recently took home a Latin Grammy Award in the Best Pop/Rock album category for Beto Cuevas' "Transformación," featuring Flo Rida, Leiré Martinez, and Debora del Corral.
When asked about working with upcoming talent like Al Ca$ino and his goals in general, Gosselin replies:
"When Al and myself created this record we wanted to give the Bay Area and the West Coast in general a Blazing Record for the Clubs and the DJ's, an Anthem for the people."
To preview "Only For Tonight," visit iTunes.