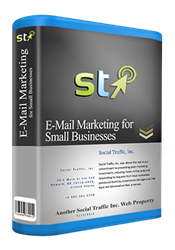 In the digital age, your online marketing matters more than ever.
(PRWEB) February 04, 2014
Social Traffic Continuity has been designed specifically with the small business owner in mind.
With rapidly changing relationships between customers and businesses in the online world, small business owners are struggling in their capacity to adopt social technologies as the new norm when it comes to communicating with modern consumers.
As more of their customers become connected online, in what is already an over communicated society, the expertise required to leverage social technologies when marketing in our new media scape has become exasperated.
"In the digital age, your online marketing matters more than ever. Small business owners need to know what marketing strategies to adopt in different situations from ones that are a waste of time, and money," says Simon U. Ford, founder and CEO of Social Traffic, Inc.
"Marketing is not a department, it's your business. It should be fun, and easy, it does not need to be complicated," says Ford.
Social Traffic Continuity training courses, which you can view here, cover Reputation Marketing, SEO, Social Media, Google+, Email Marketing plus 10 more digital marketing topics, each one written in an easy to follow format any local business owner will understand.
Social Traffic, Inc. is a social marketing agency founded in 2007 offering small businesses help in establishing proven, social infused marketing systems for dramatic and sustainable growth.
Founder Simon U. Ford has authored multiple social marketing related books, including "Social Traffic –– Marketing In Our New Mediascape," quoted by some readers at the time of its launch 6 years ago as the best book on social marketing ever written.
In 2007, Simon was highlighted for dominating a Google product launch in search results; "using social signals Simon outranked Google's own pages, holding positions #1 and #2 (for 9 months) in YouTube search results for Google's own product (Google Friend Connect)". Seven Google developer videos ranked behind Simon's in positions #3 through #10 – a rare accomplishment.
You can learn more about Social Traffic, Inc. here.