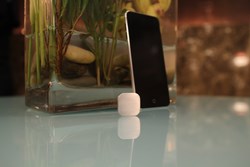 Neutron MPS technology allows the design to be very beautiful, minimal and the most advanced functionally
Chicago (PRWEB) February 04, 2014
Chicago based design firm, Bungajungle, doubled its $10,000 fundraising goal Saturday on crowdfunding website Kickstarter.
As of Monday night, the company had raised $20,172 from 528 backers for its "Nuetron S" anodized aluminum and magnetically shielded mount/dock for mobile devices.
Bungajungle began fundraising through its Kickstarter page on Jan. 30, and the project will be funded on March 6.
Neutron S works using magnets, which are shielded using Bungajungle's patent pending Neutron MPS (Magnet Plate Set) technology. This means that no magnetism enters the device, protecting it. The use of magnets allows a tiny surface area to achieve a stunning degree of grip. Very simple; no clips, bands, or strings attached.
According to Ananda Svarupa Das, the use of the Neutron MPS technology allows the design to be very beautiful, minimal and the most advanced functionally.
The Neutron S is compatible with mobile devices like phones, gps, mp3 players, and e-readers. It can also hold up most tablet PC's.
Bungajungle was founded by Ananda Svarupa Das who also successfully launched the Kickstarter, Bunglejungle- "The Most Versatile Stands in the World".