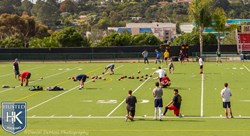 We will be providing expert instruction and evaluations to some of the top college senior specialists to help prepare them for the NFL. - Michael Husted.
San Diego, CA (PRWEB) February 04, 2014
Husted Kicking's Inaugural Husted Kicking College Senior Combine to be held in San Diego, CA, February 7-9, 2014, will be "live streamed" over the Internet, according to kicking coach Michael Husted.
"We are looking forward to our Inaugural Husted Kicking College Senior Combine this weekend," says Husted. "We will be providing expert instruction and evaluations to some of the top college senior specialists to help prepare them for the NFL. Retired NFL punter, Darren Bennett, retired NFL long snapper Mitch Palmer, and I will be working exclusively with these specialists. We will be filming and streaming their workouts "live" on the internet for teams to view."
"Streaming this combine live over the internet is just another example of how Husted Kicking is leveraging technology help athletes realize their dream of kicking in the NFL or CFL," says Husted. "Partnering with HD on Tap is a great way to allow for these specialists to showcase their talent. This is just the "tip of the iceberg" for what Husted Kicking will be doing in the future."
Husted says that as part of the Husted College Senior Combine, a proper mental and kicking/punting specific program will be introduced. He says by "live steaming" the event, its adds another important dimension to the training of those individuals participating.
"In the NFL, being able to make a roster and play for several years needs a professional attitude, dedication and discipline," says Husted. "At the end of the weekend, you will have a great understanding of what is expected to play at the highest level."
Husted says the College Senior Combine will provide participants with:

Information on selecting the proper NFL agent and how to effectively work with your agent
Effective mental training
A personalized strength and conditioning program
Husted has received high praise for his kicking combines and camps.
"I've been attending specialist combines run by Michael Husted for over 10 years and have always found them to professional, well organized and valuable to evaluate kickers, punters and long snappers," says Scott Cohen, Senior Personnel Advisor to the Tampa Bay Buccaneers. "Michael is a trusted and respected resource for NFL teams and among specialists around the league."
Billy Cundiff, kicker for the Cleveland Browns says, ""Michael is one of the best in the business. He has helped me out a ton over the years. He's a great coach who also played in the NFL, a unique combo. He understands the demands of kicking at the highest level and provides great feedback which allows me to continue to do what I love."
Go here for more information about Husted Kicking's College Senior Combine.
ABOUT MICHAEL HUSTED and HUSTED KICKING:
Michael is a retired 9 Year NFL Kicker. Michael's consistency on field goals and power on kick offs won him the job as an undrafted rookie. Michael went on to have a successful rookie season where he was named to Football Digest's All Rookie team.
During his time with the Tampa Bay Bucs, Michael established several records including:
•All-time leading scorer (502 pts.)
•Longest field goal (57 yards)
•Most 50+ field goals (10)
After his NFL career, Michael was involved in an online start up, iPlayers.net in 2005. This innovated site at the time took high school recruiting from "snail mail" to the internet. In 2007, the company was acquired by the Active Network in San Diego, CA. After working in the "corporate" world for a couple of years, Michael realized that one of his passions was helping athletes to leverage their sport for a college education.
Since that time, Michael founded Husted Kicking, his coaching and consulting business located in San Diego, CA, and the National Camp Series. The NCS platform was designed to objectively measure kickers, punters and long snappers through statistics which takes out all subjectivity in the evaluation process.