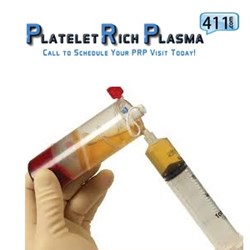 (PRWEB) February 04, 2014
America's first prolotherapy online search-and-booking platform is a system that was constructed to accommodate pain patients and regenerative medicine practices. The company, PRP411.com, has progressed towards becoming one of the nation's bonafide web portals for patients seeking a non-invasive healing treatment such as platelet-rich plasma therapy. PRP411.com currently boasts an extensive list of reputable PRP doctors who are situated throughout the country, doctors who are willing to help California pain patients with an individualized pain management remedy. In hopes of continuing an already successful marketing outreach across the country, the company has now turned its eyes to the Golden State in hopes of gathering up California prolotherapy doctors.
The up-and-coming alternative remedy of platelet-rich plasma therapy, otherwise known as PRP, has become a primary choice of California patients who seek a non-invasive procedure. Additionally, this treatment has become a regenerative medicine option of world-class athletes such as Olympic gold medalist, NBA World Champion and Los Angeles Lakers guard Kobe Bryant, alongside Los Angeles Lakers guard Jordan Farmar, has been a prolotherapy patient. Unlike many other forms of pain treatments, PRP features a non-surgical procedure that will be responsible for accelerating the body of a patient's mending process in order to help heal and reduce symptoms of any debilitating injuries. The regenerative healthcare option of Hollywood's many stars, California PRP patients are beginning to realize that this form of treatment is becoming one of the most popular forms of prolotherapy remedies in the entire state of California.
California PRP patients are not forced to spend any time in a hospital-based setting in order to recover from this procedure, and that is the best part. The last thing a patient wants to do is have to spend an extended period of time in an uncomfortable setting. Please note that platelet-rich plasma injections are able to take place right in any California prolotherapy doctor's office, a convenient process that finds a patient's blood sample being obtained and placed into a centrifuge that separates the blood into differentiating components.
Experiencing both a reduced time of recovery and the efficiency of a surgical procedure, PRP is the answer for California patients who are in need of a non-invasive and entirely safe treatment. Once a PRP injection has been administered, the body's ability to ambulate sooner immediately becomes enhanced with the platelet-rich plasma. It is advised that all pain patients who are located throughout the state of California learn about this unique treatment in order to aid a chronic condition. Patients typically seeking this form of treatment suffer from knee, shoulder, hip and spine, rotator cuff tears, chronic plantar fasciitis, anterior cruciate ligament (abbreviated A.C.L.) injuries.
Platelet-rich plasma therapy in California is slowly shaping the way healthcare in the Golden State is being practiced. With exceptional results pouring in on a constant basis, it has become evident that more and more doctors are needed in order to satisfy a massive influx of patient demand. Revolutionizing prolotherapy healthcare through a network of some of the United State's finest regenerative medicine physicians, PRP411 will continue to work towards conquering the amazing patient outreach in the state of California.