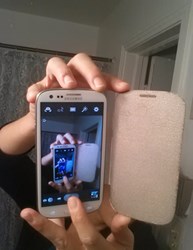 Men with poor sperm quality planning for pregnancy should be advised not to use cell phones extensively
San Francisco, CA (PRWEB) February 05, 2014
Cupid's bow and arrow tantalizes you with a desire for love, but can't do anything to protect your sperm from cell phone radiation – RF Safe has a custom made flip case radiation shield for that!
It is common for men who talk on a cell phone using a Bluetooth device or other headset, that the phone is kept in a pants pocket or clipped to a holster. This exposes their reproductive organs to cell phone radiation, and several studies have found lower sperm count and/or poorer sperm quality in men who use their phones this way than in those who do not.
RF (Radio Frequency) Radiation passes right through most all non conductive materials unimpeded until being either reflected or its electromagnetic energy is absorbed. RF Safe smart phone flip cover cases contain special silver plated shielding material that deflects radiation. By keeping this super thin performance shielding fabric between the device and user, the body absorbs much less microwave frequency radiation radiating from the cell phone.
RF Safe is offering a one of a kind service that allows cell phone users to have a custom shielded flip case cover made for most smartphones. RF Safe is the only company in the world offering such an innovative way to shield radiation, protect the phone and still stay in style. RF Safe's flip case screen covers are the easiest protection to use with the largest piece of shielding protection available inside a phone case.
Studies linking cell phone exposure to harmful effects on sperm have been done in the United States, Australia, Austria, Hungary, Poland, Turkey and South Africa, using diverse methodologies. In some, scientists compared sperm counts and sperm health in men who wore cell phones on the hip with those who carried them elsewhere on the body or did not use cell phones at all. In others, researchers exposed sperm to cell phone radiation under laboratory conditions. In still others, scientists examined whether there was a correlation between sperm health and the intensity of cell phone use among men undergoing evaluation for infertility.
Among the findings:

Men who carried a phone in a hip pocket or on the belt had 11 percent fewer mobile sperm than men who kept a phone elsewhere on the body (Kilgallon 2005).
http://www.ncbi.nlm.nih.gov/pubmed/21486411
Men who carried a cell phone on the belt and used it intensively during a five-day test period had a 19 percent drop in highly motile sperm from their previous levels (Davoudi 2002). http://www.ncbi.nlm.nih.gov/pubmed/17482179
"Our results showed that cell phone use negatively affects sperm quality in men… Men with poor sperm quality planning for pregnancy should be advised not to use cell phones extensively" (Gutschi 2011). http://www.ncbi.nlm.nih.gov/pubmed/21486411
RF Safe's R&D teams use the highest quality silver mesh radio frequency radiation shielding fabric to cover the entire surface area of the phone by adhering it inside the flip screen cover.
After dialing or answering a call simply close the flip and talk like normal when an air-tube headset isn't an option. After being modified at RF Safe, the flip now functions as a barrier that microwave radiation cannot penetrate, no matter if the phone is in a pocket or at the ear, as long as the microwave shielded flip is between the phone and user – RF exposure is greatly reduced.
Now you don't have to look any further for that perfect Valentine's Day gift. Protection from cell phone radiation is the gift that keeps on giving when it increases the chances of having a happy, healthy family. Fall in love, stay in shape, raise a family – Build Tough Sperm! Shield the swimmers from microwave radiation.
ABOUT RADIO FREQUENCY SAFE – RFSAFE.COM
RF SAFE is the world's premier provider of cell phone radiation protection accessories and informational data. Since 1998 RF (Radio Frequency) Safe has been dedicated to evolving the wireless industries safety standards, by engaging in the business of design, testing, manufacture, and sale of safety technologies to mitigate harmful effects of cell phone radiation.