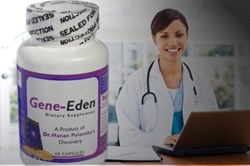 We recommend that doctors learn about Gene-Eden-VIR. This natural antiviral was clinically proven to reduce symptoms of an HCV infection in a study that followed FDA guidelines. In addition, it is a remedy that almost everyone can afford. - Mike Evans
Rochester, NY (PRWEB) February 09, 2014
polyDNA has learned that two studies showed that patients who were given various combinations of antiviral pill cocktails cleared the hepatitis C virus from their systems in up to 95% of cases (1). The downside is that many people cannot afford the new HCV treatments. Dr. Anna Lok said "the drugs are expensive, up to thousands of dollars per treatment course. Cost is an issue, and will make these treatments not accessible to many patients (1)." In light of these issues, polyDNA recommends that doctors learn about Gene-Eden-VIR. This natural HCV remedy was proven to reduce hepatitis C symptoms in a post-marketing clinical study that followed FDA guidelines.
Andrew Muir, from the Duke Clinical Research Institute, noted that the new HCV treatments are game-changers for patients. He said, "This has made me change the way I'm talking with patients. These regimens are essentially going to cure everybody (1)." Study authors reported "that the experimental drugs were safe and effective in the patients, even those who'd had earlier standard therapy for hepatitis C virus - interferon shots and two other medications (1)."
Until recently, HCV patients had to rely upon treatments, such as interferon, to treat their infection. These treatments required patients to deal with weekly injections, rough side effects, and no guarantee of full recovery. Now, however "The U.S. Food and Drug Administration approved sofosbuvir in combination with peginterferon and ribavirin this past December for one form of hepatitis C, and daclatasvir is still in the approval process (1)."
"There are also some dietary supplements that claim to be effective against viruses. However, the law does not consider dietary supplements as drugs, and therefore, does not require the FDA to evaluate the effectiveness of these supplements." (See the journal Pharmacology & Pharmacy, published on August 12, 2013) (2).
"We recommend that doctors learn about Gene-Eden-VIR. This natural antiviral was clinically proven to reduce symptoms of an HCV infection in a study that followed FDA guidelines. In addition, it is a remedy that almost everyone can afford." - Mike Evans, polyDNA
Gene-Eden-VIR, a natural HCV remedy, was designed to help the immune system target the latent virus. A study published on August 12, 2013 in the peer reviewed, medical journal Pharmacology & Pharmacy, in a special edition on Advances in Antiviral Drugs, showed that Gene-Eden-VIR reduced hepatitis C symptoms (2).
Study authors wrote that, "Individuals infected with the hepatitis C virus…reported a safe decrease in their symptoms following treatment with Gene-Eden-VIR (2)." The study authors also wrote that, "We observed a statistically significant decrease in the severity, duration, and frequency of symptoms (2)."
Doctors can read the entire scientific paper by visiting http://www.scirp.org/journal/PaperInformation.aspx?paperID=36101#.Uu95eD2Sz90.
To learn more about Gene-Eden-VIR, and HCV, visit http://gene-eden-kill-virus.com/HCV.php. All orders of Gene-Eden-VIR are completely confidential, and no information is shared or sold to any third party. Privacy is assured.
References:
(1) Most With Hepatitis C May Soon Find Hope in New Treatments. Published on January 15, 2014.
http://www.webmd.com/hepatitis/news/20140115/most-with-hepatitis-c-may-soon-find-hope-in-new-treatments
(2) Gene-Eden-VIR Is Antiviral: Results of a Post Marketing Clinical Study. August 12, 2013.
http://gene-eden-kill-virus.com/PP_Gene-Eden-VIR-is-Antiviral.pdf
polyDNA is a biotechnology company that develops dietary supplements using the unique scientific method developed by Dr. Hanan Polansky, which is based on Computer Intuition.
In addition to his unique scientific method, Dr. Polansky published the highly acclaimed scientific discovery, called Microcompetition with Foreign DNA. The discovery explains how foreign DNA fragments, and specifically, DNA of latent viruses, cause most major diseases.
polyDNA developed Gene-Eden-VIR, an antiviral natural remedy that helps the immune system kill latent viruses.