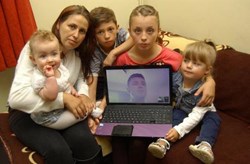 I hope that Mr Danushi's visa is issued without any further delay so that this family can finally be reunited and Mr Danushi can meet his youngest daughter for the first time
London, United Kingdom (PRWEB UK) 4 February 2014
Legal 500 recommended solicitors Duncan Lewis entry clearance appeal was allowed for Edmond Danushi, an Albanian national who moved to England in January 2000. Despite, according to court documentation having a wife who is a British citizen and 4 children born to her in Britain his visa application was rejected by an Entry Clearance Officer in May 2013.
Mr Edmund Danushi v ENTRY CLEARANCE OFFICER- TIRANA- Immigration and First Tier Tribunal- Appeal No: OA/12205/2013- 3/01/2014*
Court documents associated with the case state that Mr Danushi arrived in the United Kingdom on the 7th January 2000 and made an asylum application. He was later granted Exceptional Leave to Remain in the UK on 9th May 2001.*
Mr Danushi's wife, who also acted as his sponsor stated that she met Mr Danushi in 2001.* They began a relationship and married on 21st May 2004. The couple had four children together. Mr Danushi also had another child from a previous relationship, for whom he had parental responsibility. Mr Danushi and his wife had been living together in a subsidising relationship since 2001 and in May 2004 the couple got married.*
Documents further state that in August 2012 Mr Danishi was entitled to apply for Indefinite Leave to Remain in the United Kingdom. He claims that as he did not have the money for the application he was advised by the Home Office by telephone that he should return to Albania and apply for Entry Clearance. Following fears of overstaying his visa Mr Danushi complied with the Immigration Authorities and returned to Albania, leaving behind his wife and 5 children.*
In further accordance to Court Documents; upon his arrival in Albania, Mr Danushi made an Entry Clearance Application on 20th February 2013 after months of communication with the Embassy in relation to a fee waiver.* This was refused on 2nd May 2013 because Mr Danushi apparently did not meet the financial requirement of the application. Court documents state that Mr Danushi was informed that as the Immigration Rules had changed the sponsor (his wife) did not meet the financial requirements as she was not working, had no savings or additional income and was supported by Mr Danushi while he lived in England.*
Furthermore, Court Documents state that since Mr Danushi's departure, the family have suffered emotional and physical ramifications resulting from his absence. Due to Mr Danushi being unable to return to the UK, he has missed the birth of his fifth child, who was born with complications and the health of his wife, who had not been eating and was on antidepressant worsened. She had attended a dermatologist and suffered stress induced Psoriasis and was on antidepressants. She had lost weight and felt suicidal.*
An appeal was lodged by Duncan Lewis Immigration Solicitors in May 2013 against the refusal of Mr Danushi's application for entry clearance. On 27 December 2013 the appeal was granted. Danushi will be returning to his family in the UK shortly.*
Duncan Lewis Trainee Solicitor Gemma Hole represented Danushi throughout his entry clearance application and at his appeal hearing, she added;
"I am delighted for the Danushi family that the appeal was allowed especially as the hearing was only two days before Christmas. It is a tragedy that the family were kept apart for so long. I hope that Mr Danushi's visa is issued without any further delay so that this family can finally be reunited and Mr Danushi can meet his youngest daughter for the first time."
About Duncan Lewis
Duncan Lewis, established in 1998, is the largest civil legal aid practice in the UK and one of the country's fastest growing firms of solicitors, serving both corporate entities and private individuals from offices across London and throughout the UK. A recommended leading law firm by Law Society Lexcel, Legal 500; Duncan Lewis employs over 500 members of staff and was the first law firm to achieve the Investors in People Gold Quality Standard Mark in 2009. Representing over 25,000 clients per year, the company has an excellent reputation in the Administrative Court, High Court and Court of Appeal in the Immigration, Public law and Family/Child Care jurisdictions.
Established areas of law are: business immigration, child care, civil liberties, clinical negligence, community care, crime and fraud, dispute resolution, debt and insolvency, employment, family and divorce, housing, asylum and immigration, litigation, mental health, personal injury, prison law, professional negligence, public law and administrative law, regulatory matters and welfare benefits.