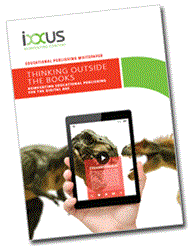 We are now well past the Death of the Textbook and into the next age. - David Worlock, Co-Chair, Outsell
(PRWEB UK) 5 February 2014
Educational publishers must move away from format-based thinking and start 'thinking outside the books' in order to successfully transition towards a digitally-driven business model, according to a 16 page whitepaper published this week.
The educational publishing whitepaper, published by Ixxus, is based upon the organization's engagement with world-leading publishing and education clients, including Pearson, Oxford University Press, Cengage Learning and Bedford/St Martin's. Entitled 'Thinking Outside the Books: Reinventing Educational Publishing for the Digital Age', it discusses how these and other industry-leaders are responding to the digital challenge.
"The key factors which we see impacting on the digital textbook market and the educational publishing sector as a whole are the increasing speed of the move to digital as efficacy studies and technological advances enable take-up of suitable devices and solutions," said Kate Worlock, Lead Analyst for Education & Training at information analytics firm Outsell.
"This whitepaper visualizes some of the obstacles and challenges which educational publishers may find themselves facing in the transition towards digital," commented Steve Odart, CEO and co-founder of Ixxus. "We're seeing more and more companies moving towards digital-first strategies, but often they don't realize that this means changing their entire organizational mind-set and thinking about content in a completely different way".
To download your free copy of the whitepaper, visit http://www.ixxus.com/educational-publishing-whitepaper.
Ends.
About Ixxus
Ixxus is a leading global provider of publishing solutions that reinvent the way organizations work with content to drive new revenues and enhance market agility. Ixxus has roots in both traditional and digital publishing, delivering award-winning, collaborative solutions that are uniquely tailored to customer needs.
Ixxus has expertise gained working with some of the world's biggest names in publishing and media, including Pearson, FOX, Penguin Random House, Boston/St Martin's and Oxford University Press. The company is headquartered in London and Boston.