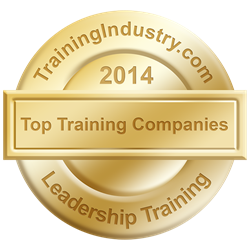 It's a great honor for us to be recognized as one of the world's top providers of leadership training.
Washington, DC (PRWEB) February 05, 2014
TrainingIndustry.com continuously monitors the leadership training marketplace and it publishes an annual ranking of the world's top 20 providers. This year's selection criteria comprised: thought leadership and influence within the leadership training industry; industry recognition and innovation; breadth of programs and range of audiences served; delivery methods offered; company size and growth potential; strength of clients; geographic reach and experience serving the market.
Ken Taylor, Chief Operating Officer of trainingindustry.com, said: "This year's submissions were the most robust we've seen. The response is a clear indication that corporations continue to focus on introducing new leadership strategies to support organizational performance improvement. This year's Top 20 list is a collection of the best of the best in support of this leadership evolution. Hemsley Fraser demonstrated excellence in every aspect."
Doug Harward, Chief Executive Officer of trainingindustry.com added: "The leadership training segment has seen continued high revenue growth and continued innovation in the way companies develop and deliver leadership programs. Our Top 20 list is designed to help buyers of leadership training make informed decisions when searching for the right training partner."
Todd Turner, Chief Executive Officer of Hemsley Fraser, said: "It's a great honor for us to be recognized as one of the world's top providers of leadership training, for the fifth successive year. This accolade comes after we've made significant investments to further improve our facilities and our services, so that we can create even more engaging and inspirational learning experiences for our clients."
Founded in 1991, Hemsley Fraser is a market leading provider of in-company and customized learning programs, consulting services, open training courses and managed learning services. With offices in the US, the UK, and Australia, the company delivers learning in 50 countries. Since 2008, it has been part of the Demos Group, a global provider of learning and development.
About Training Industry, Inc.
TrainingIndustry.com spotlights the latest news, articles, case studies and best practices within the training industry. Our focus is on helping dedicated business and training professionals get the information, insight and tools needed to more effectively manage the business of learning.