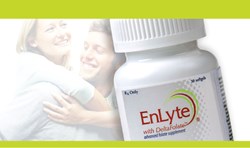 Psychiatrists agree that new, effective, safe, and cost-effective treatments are needed to treat major depressive disorder. EnLyte answers that need and Jaymac is excited to educate Psychiatrists at the NEI/Nevada Psychiatric Conference.
(PRWEB) February 06, 2014
JayMac Pharmaceuticals, LLC, Makers of EnLyte with Delta Folate, Announce Participation in Nevada Psychiatric Association Psychopharmacology Update, To Be Held February 12-16, 2014 in Las Vegas.
The Nevada Psychiatric Association's annual psychopharmacology update conference is set to take place February 12th, in Las Vegas. The Nevada Psychiatric Association hosts the largest annual psychopharmacology conference in the U.S., with discussion topics including mood and anxiety disorders, with expected attendance projected at 2,500 Psychiatrists and mental health professionals from around the country.
EnLyte, an advanced generation prescription folate for the treatment of depression, is expected to draw much attention at this year's conference. This second generation folate is the first to contain a complete combination of all of the natural ingredients proven to increase neurotransmitters, and it is continuing to gain interest and usage among the Psychiatric and mental health professions. EnLyte was presented at the recent NEI Psychopharmacology Congress in Colorado Springs in November and there was much interest around this exciting new option for depression.
One of the main guidelines used in the area of depression treatment-the APA Guidelines-has called for safer prescription options for depression with fewer side effects than standard antidepressants, and these guidelines further state folate therapy is a safe and effective choice. JayMac has filled this need with the most complete folate therapy on the market, and is pleased with the enthusiastic response from Psychiatric community, and the outstanding clinical response seen from EnLyte in people suffering from depression.
According to Jaymac CEO and EnLyte co-inventor, Harold Robinson: "Psychiatrists agree that new Rx, effective, safe, cost effective treatments are needed to treat major depressive disorder.EnLyte is a new Rx natural advanced generation folate that answers that need, and JayMac is excited to educate Psychiatrists at the NEI/Nevada Psychiatric Association meeting in Las Vegas next week on this new option for their patients."
About EnLyte
EnLyte Is the first and only prescription folate therapy containing L-Methylfolate Magnesium, Folinic Acid, and Folic Acid, and all the necessary B-vitamin metabolites, in optimal doses, to completely address the remethylation and transsulfuration cycles and reduce Homocysteine. EnLyte is indicated for adjunct or monotherapy in mild, moderate, and severe depression, and is pregnancy category A for use in pregnant and lactating women.
About JayMac
JayMac Pharmaceuticals, LLC is a Sunset, Louisiana-based pharmaceutical company gaining interest with the introduction of EnLyte into the psychotropic and psychiatric market.