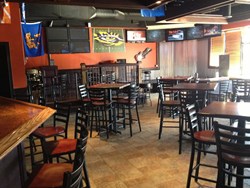 Lexington, KY (PRWEB) February 04, 2014
Leading restaurant furniture manufacturer and distributor Affordable Seating recently helped The SEC Sports Pub & Grill to a triumphant grand opening with high quality attractive metal chairs and bar stools.
The SEC Pub is a state of the art Pub located in the Elk Horn Shopping Center. The Pub menu consists of traditional items such as steak, grilled chicken and pork chops with 12 side items like mashed potatoes and sweet potato casserole. In addition, the SEC offers the best Cajun dishes outside the Gulf Coast.
The SEC offers 12 taps of draft beer and countless bottle beers along with a huge assortment of bourbons and a generous assortment of wines including the SEC's own select wine reserve.
The SEC has 30 TV's and 7 HUGE big screen projectors. The SEC offers the NFL package, the NBA package along with several college conference packages. On the weekends, the SEC offers the best local musicians the region has to offer. Customers can enjoy live music every Wednesday, Thursday, Friday, Saturday and Sunday night as the SEC's stage will be entertaining the crowds with the best 90 rock, Current Rock, Classic Rock and Country.
"As a venue that brings in a wide variety of customers and experiences heavy traffic every day, the owner of The SEC was looking for new, stylish chairs that would help make a statement and also last a long time," Affordable Seating sales representative David M. explained.
"The owner contacted Affordable Seating for new bar stools because of their reputation for high quality at competitive prices", explained Dave. "He decided to go with Affordable Seating's Swivel Bar Stool with a Black Double Ring Frame in black vinyl upholstery. It currently sells for $35."
He also bought Metal Ladder Back Chairs and matching bar stools. The Metal Ladder Back Chairs currently sell for only sell for only 31.50 with standard options and matching bar stools start at just $49.99. The commercial metal chair comes with a standard black sandblast frame finish, plastic glides and a padded seat. The frame is available in 5 different finishes. Customers have the choice of a solid wood seat of a padded seat made of fabric or vinyl. The wood seat is available in 6 different finishes and for an upholstered seat there are many options to choose from.
The owner chose a clear coat frame finish, which is also an option for an additional charge. Affordable Seating offers many options customers to choose from for all of its restaurant furniture. Clients can choose to customize their furniture with a custom made wood finish or special material for the padded seat, which is made from American materials.
The Metal Ladder Back Chairs and Bar Stools are the most popular choices for restaurants and bars. They are stylish and versatile enough for any type of establishment. They are also very tough and durable, which makes them a great choice and a wise investment. All of Affordable Seating's products come with a limited lifetime warranty.
To view Affordable Seating's full selection of restaurant chairs, bar stools, booths, tables and patio furniture visit http://www.affordableseating.net or call a customer service representative at (888) 495-8884.
The SEC Sports Pub & Grill is located at 4379 Harrodsburg Rd. in Lexington, KY. They can be contacted at (859) 317-8700.