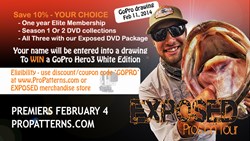 the mother-load of shallow
Yankton, SD (PRWEB) February 05, 2014
ProPatterns celebrates this week's premiers with a GoPro video camera giveaway. The power and versatility of the sports camera, popular with Palaniuk and other pro anglers.
ProPatterns members who purchase the Season 1 or Season 2 DVD collections, an Elite Membership or extension, or the Exposed DVD and Membership Package and enter the promotional code 'GOPRO' at the time of purchase are automatically entered into a drawing for a chance to win a GoPro camera on February 11, 2014. The promotional code also comes with an additional 10% discount on existing prices, including a $50 discount on Elite Memberships.
The first six episodes of Exposed Season 3 premiered in January, these episodes are still available to Elite members of ProPatterns in the Video Vault, as well as available for pay-per-view to those with the free ProPatterns Social Membership. Exposed expands its roster of Elite anglers this week by featuring three anglers who have never appeared on the series.
Marty Robinson leads the series during the first day of practice at Bull Shoals. Exposed follows Robinson as he works down the lake, following bluffs and channel swings in search of patterns, weeding through small catches in search of competition weight bass.
Brandon Palaniuk follows on day two, bringing his experience from his 2012 win at Bull Shoals. On day one, Palaniuk fished the areas that won him the 2012 tournament, eliminating those areas as possibilities before spending day two fishing secondary points. Even though the 2013 event occurred on the same dates as last year's derby, Palaniuk explains that conditions had radically changed on the water.
Palaniuk took the Exposed crew into the far reaches of the lake until finding a school of bass in a crystal-clear stretch of shallow water which he describes as "the mother-load of shallow." He warned though that he wouldn't know what to expect from these areas on tournament days as temperatures were expected to drop by thirty degrees.
Britt Myers, who took second-place honors at Bull Shoals in 2012, takes Exposed into the third day of practice. Like Palaniuk, Myers had to radically adjust to the differing conditions on Bull Shoals. In 2012 the waters were dirty. In 2013, the waters offered at least 20 feet of visibility in many places. Myers adjusts by changing up lures and fishing deeper, until finding a strong pattern and bringing in a three-and-a-half pound smallmouth on his last cast of the final practice day.
The three newest episodes of Exposed are available at ProPatterns.com. Each episode of Exposed contains over a half-hour of in-depth, in-the-boat, behind-the-scenes footage.
About ProPatterns, Inc. and Exposed:
ProPatterns, Inc. is a leader of angling education offering a variety of fishing tips and membership services online including competitions to win exclusive prizes.
Information is gathered from various sources and disseminated with members in a variety of ways. The Exposed video series, for example, gains all of its integrity from an alignment with the biggest names in the bass fishing industry including professionals who fish with BASS, FLW, and PAA. Cooperation from the anglers and their willingness to share is the catalyst for the growth of this series.
Season 1 of Exposed features 22 professional videos in a 9 disc collection DVD set, it can be ordered at the ProPatterns online store. The set includes over 20 hours of video, and is also available in a pay per view format at ProPatterns site.
Season 2 of Exposed, also available on DVD, features 24 pros and over 16 hours of footage on an eight disc collection. Pay per view options for Season 2 are available online as well.
Finally, the much anticipated Season 3 is now available online, and includes 24 anglers on new lakes with new enhanced editing. FREE for Elite Members and available in pay per view for Social Members.
The company is based in Yankton, South Dakota, home of CEO and President Chad Ekroth. Ekroth's background includes a computer science degree and business experience involving several successful startups. When not tending to business, Ekroth spends his time tournament fishing and engaging in other outdoor related activities which help educate and protect the future of angling and hunting.
Visit http://www.ProPatterns.com today to receive all of the latest information about the Exposed videos series and to learn more about all of the member services available.