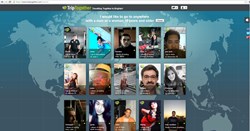 TripTogether.com is a social travel website and iPhone app aimed at matching single travelers and boosting the vacation plans of a membership of over 100,000.
New York (PRWEB) February 05, 2014
Social travel network TripTogether.com has gathered hot tips and info from its popular Travel Planner feature to inspire travelers across the world to banish the boredom of solo travel. This list of top February destinations, as generated by TripTogether members around the world, offers great advice to take a break from routine life and find international adventure with a travel companion.
Find travel mates and head for Maui, the most romantic destination in the U.S. With beautiful beaches, verdant valleys, and scenic drives, you and your travel companion will have plenty of ways to have fun. In the evenings, you and your travel mate can have dinner by the sea, feasting on succulent fresh seafood while watching the gorgeous sunset over the ocean.
Venice is TripTogether's most popular destination for travelers to meet in Europe and there's little wonder why. From the grandiose beauty of St. Mark's Square and the dreamy labyrinthine canal network, the city is full of opportunities to become lost in the company of your newfound travel friend. Enjoy wonderful Italian coffee and tasty calzone during daytime and then take an evening stroll to a backwater trattoria for some traditional gnocchi quattro formaggio.
With classic architecture, lovely canals, and a mixture of Chinese and Portuguese culture, Macau is one of the most romantic places for a trip together in Asia. Find a travel companion and see the lush gardens, old cathedrals, and beautiful parks, as long walks in beautiful places are better together. You and your travel partner will love the fusion cuisine that is unique to this former Portuguese colony.
Fourth on TripTogether's list of dreamy places to meet travel friends is Lamu Island, located off the African coast of Kenya. A sun-drenched idyll, it is perfect for travel partners to kick-back and really get to know each other in a paradise setting. A destination to laze in crystal waters and on flawless white sands, it's the sort of place where your enjoyment will be doubled by the joys of travel companionship.
TripTogether.com helps single travelers connect with people who are looking for travel partners, or who just want to share their travel experiences with members who will be visiting their country. Over 1 million trips have already been planned using TripTogether's Travel Planner feature, which displays members' planned trips to help find travel matches. For more ideas for new trips, you can follow the Official TripTogether Facebook Page.
About TripTogether
TripTogether.com is a social travel website and iPhone app aimed at matching single travelers and boosting the vacation plans of a membership of over 100,000. Visitors to TripTogether represent over 190 countries and 11,000 cities. With exciting features including Instant Chat, members can discuss planned trips online, hook-up with new friends from overseas, show visitors their favorite spots and share hot tips about real places of interest. TripTogether.com comprises a team of internet experts (all avid travelers) with over 15 years of experience. All profiles are verified by TripTogether staff, ensuring authentic interaction between members looking for the perfect travel friend.