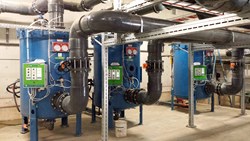 By using Defender there is 90% less water and waste, 30% less fuel and chemicals used, 75% smaller footprint as well as 50% reduction in electricity.
Coventry, RI (PRWEB) February 14, 2014
Neptune-Benson, a leading manufacturer of commercial pool filtration systems, ETS-UV disinfection systems, and Lawson Aquatics components, is proud to treat Wet 'n' Wild's park water for well in excess of 200,000 bathers since the park's opening in December 2013.
For any installation of this size, water savings are a huge consideration; with thousands of gallons per minute of water for the attractions, it is crucial to use a water saving device. The Defender® Regenerative Media filter eliminates over 90% of the backwash water associated with sand filter operation. The dramatic reduction of backwash waste directly translates to savings in chemicals and fuels for reheating associated with make-up water. If Wet 'n' Wild had chosen sand filters, approximately thirty (30) would be needed to replace fifteen (15) Defender filters.
There are fifteen Defender® Regenerative Media filters servicing the entire park located in five plant rooms. Wet 'n' Wild's plant rooms are reported to be the largest recreational water plant rooms in the Southern Hemisphere, possibly the world. The site as a whole is 65 acres with more than 40 rides and attractions, 16 slides, 3 pools, and 2 beaches.
Wet 'n' Wild was approached by all of the leading filtration companies around the world and through their vigorous analysis, testing and research they were led to the conclusion that the Defender® filters were clearly superior on every measure.
Neptune-Benson Defender® was chosen for water quality as well as sustainability. By using Defender® there is 90% less water and waste, 30% less fuel and chemicals used, 75% smaller footprint as well as 50% reduction in electricity. In addition the Defender ® removes particles down to 1 micron or less.
"We are proud to be the filtration system of choice," says Mr. David Monk, International Sales Director Neptune-Benson, " In 2013 Defender filters received certification by the Australian 'Smart Watermark Program' in recognition of it's water saving qualities. The only filter of its type to ever receive such recognition and in fact compete as a finalist for product of the year."
About Neptune-Benson
Since 1956, Neptune-Benson has been a leading manufacturer of filtration systems for aquatic centers, waterparks and aquatic life support. Featuring the award-winning Defender™ Regenerative Media Filter and the ETS- Ultraviolet Disinfection system, Neptune-Benson also offers steel & fiberglass sand filter systems; the AEGIS anti-entrapment shield; fiberglass movable bulkheads; Dominion butterfly valves; Guardian strainers along with the complete family of Lawson Aquatics brand products.