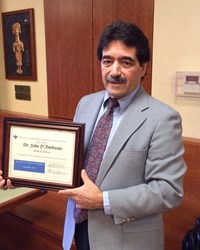 Riverdale, NY (PRWEB) February 04, 2014
Bon Secours New York Health System's Schervier Nursing Care Center, specializing in long-term and rehabilitation care in the Riverdale section of The Bronx, proudly recognizes Dr. John D'Ambrosio as the Values in Action award recipient for December 2013.
The prestigious Values in Action award honors those employees who live Bon Secours' mission to bring compassion to health care and to be "good help" to those in need, especially the poor, elderly and the dying. D'Ambrosio, a member of the medical services team for 24 years, is an attending physician at the nursing care center. He lives in Yonkers, NY. He recently became a grandfather for the first time. He was nominated by his peers and fellow leaders for his innovative approach to caring for the elderly, and for his compassion towards those dealing with the heartbreaking decisions of death and dying.
"I am very proud to present Dr. D'Ambrosio with this award, he embodies our shared values of compassion, respect, integrity, justice, growth, quality, innovation, and stewardship," said Stephen Kazanjian, Director of Mission at Schervier. Jennifer Giuffrida, Director of Social Work, nominated D'Ambrosio, "He takes time to educate staff on different diagnoses and prognoses so that we are better equipped to understand a particular resident's needs. He is an advocate for his patients; he is consistently able to capture their individual needs and wants at the end of life."
A Values in Action ceremony was held in honor of D'Ambrosio on January 29, 2014, to honor him and recognize his accomplishments. Dr. Joseph Scarpa, Director of Medical Services, commended D'Ambrosio, "John has a unique way of finding time for all who need him, regardless of his busy schedule. He is a strong advocate of palliative care when appropriate, and an asset to our organization." D'Ambrosio was presented with a certificate of excellence, along with a small gift on behalf of Schervier by Kazanjian.
About Bon Secours New York Health System
Bon Secours New York Health System is comprised of Schervier Nursing Care Center, a 364-bed long-term nursing facility providing skilled nursing care, rehabilitation services, palliative care, and care in a secure environment for those with Alzheimer's and other cognitive impairments. In addition, the Schervier Short-Term Rehabilitation and Cardio-Pulmonary Rehabilitation programs provide services for those recovering from illness and injury and returning to their home and community. The Schervier Long Term Home Health Care Program provides comprehensive medically case-managed home care to residents of the Bronx and Westchester County. The Frances Schervier Apartments offer 154 units of federally-subsidized housing for independent living to seniors and heads of household with disabilities. For more information, visit http://www.scherviercares.org, or its Facebook page for frequent updates at http://www.facebook.com/SchervierNursingCareCenter.
Contact:
Laura E. Amerman
718-554-8804
Laura_Amerman (at) bshsi (dot) org