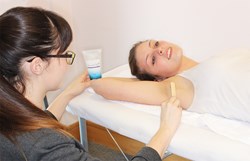 ipulse is a brand that prioritises the customers needs and desires. It gives you remarkable results and at the same time you can enjoy virtually pain free treatment sessions in the comfort of your own home.
(PRWEB UK) 6 February 2014
Plenty of men and women worldwide dream about being hair free, but the thought of removing unwanted hair conjures up images of painful, time consuming and expensive experiences. All those cuts and rashes from waxing, epilating, tweezing and shaving would be enough to put anybody off hair removal. However, the desire to be hair-free is so predominant in today's beauty obsessed society that putting up with the discomfort seems to be a necessary evil!
There is a treatment that is proven for removing unwanted hair in a safe and significantly less painful manner. Intense Pulsed Light, IPL, is the new phenomenon that gives breath taking results allowing for a more enjoyable experience of removing unwanted hair within the comfort of your own home.
How it works: ipulse is an intelligent technology which converts light energy into heat energy. The light energy is transmitted through the skin and is absorbed by the melanin found within the hair shaft and gently disables the hair follicle preventing any further hair growth.
As summer is on the way, it is the best time to start using IPL treatments in order to be hair free and carefree in time for the holiday period.
So, the best way to prepare getting the 'silky smooth look' ready for this summer: ipulse advises following a clinically tested and proven regime of 12 weekly treatments. This is so you can get the best results possible by removing the hair when it is in the right cycle which is the Anagen phase (the growing phase). Starting the regime now would mean having smooth skin in time for those summer holidays.
IPL is not as painful as other hair removal methods; it feels like a warm tingling sensation which some people have likened to an elastic rubber band gently flicking on the skin. The SmoothSkin extra device is the only system to have a unique Skin Tone Sensor which offers a personalised treatment by selecting the correct setting for the desired skin tone. This makes the treatment effective and less painful.
It can be a little difficult to break from routine and familiarity, but experimenting with different treatments would show the benefits of using IPL and why it is superior to other hair removal methods.
Some lucky people are not very hairy, but for those who need a little help removing those unwanted hairs IPL can work wonders. IPL may not offer 100% hair removal for all individuals as the result is dependent on many factors, but it can significantly reduce the amount of hair growth.
As every person has a unique difference in hair colour, texture and thickness, some people will see results faster than others. For top tips to getting the best results out of treating, the ipulse website has a 12 week challenge which provides participants with videos, advice from clinical expert Anita Clarkson and support at http://ipulse.co.uk/12-week-challenge.
When buying a product it is only natural to judge its authenticity and credibility. So here are plenty of reasons to have complete confidence in the ipulse brand:

ipulse has a dedicated clinical team who perform studies which validate our claims of safety, efficacy and simplicity.
ipulse has FDA approval (The Food and Drug Administration).
SmoothSkin extra has been endorsed by skincare professionals and influential beauty bloggers.
SmoothSkin extra has excellent customer reviews.
It is a brand that makes sure customer voices are heard and understood. ipulse provides full customer support via a dedicated website, a support line and social networks.