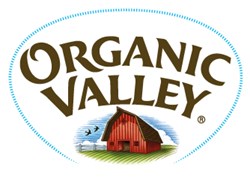 '2013 had its challenges,' said George Siemon, 'and our cooperative spirit is what has always helped us overcome challenges. In some ways, it was fitting that we tapped into our cooperative spirit more than ever in our 25th anniversary year.'
La Farge, WI (PRWEB) February 04, 2014
Organic Valley, the nation's largest cooperative of organic farmers and a leading organic brand, today announced its 2013 results, rounding up a year of milestones and challenges in which the cooperative celebrated its 25th anniversary, a fire burned down its headquarters, and a study proving that Organic Valley whole milk is nutritionally superior was published in a prestigious scientific journal.
"2013 had its challenges," said George Siemon, CEIEIO and founding farmer of Organic Valley, "and our cooperative spirit is what has always helped us overcome challenges. In some ways, it was fitting that we tapped into our cooperative spirit more than ever in our 25th anniversary year."
In May 2013, a fire burned down more than half of Organic Valley's La Farge, WI, headquarters. Crews from eleven local departments fought the fire and although 600 employees were impacted, no one was harmed. Thanks to an outpouring of support from neighbors far and wide, Organic Valley was back in business the next day fulfilling orders. The rebuild of the headquarters building is currently on schedule, with the central section of the building more than 90 percent complete and the remaining west section to be completed by second quarter, 2014.
"While our material losses were painful, we are so very grateful that no one was harmed," continued Siemon. "We are incredibly thankful to the community members, volunteer firefighters and emergency personnel for their heroic efforts and on-going support."
Growth and Giving
Organic Valley remained very committed to supporting key national causes, local organizations, schools, farmers and friends through more than $2.6 million in donations in 2013 to organizations such as Organic Seed Alliance, Seed Matters, Rodale Institute, and Environmental Working Group, up from $2.2 million in 2012. Also in 2013, the farmer-owned cooperative maintained a stable membership, growing by 10 new farmers. Sales for the cooperative increased from $857 million in 2012 to $928 million in 2013, for over eight percent growth. Additionally, 56 new jobs were approved to fill in the year to come.
The organic industry overall saw important growth, too, of more consumers seeking nutritious and delicious food for their families that is produced without antibiotics, poisonous pesticides, synthetic hormones, or GMOs. After fruits and vegetables, dairy products were the largest category of the growing $29 billion organic food sector, according to the Organic Trade Association's 2013 Organic Industry Survey. Organic milk and cream sales were worth $2.6 billion, the survey found. Sales of whole, organic milk were up ten percent in 2013, making it the fastest-growing category of milk.
Scientific Study
That growth was further fueled by a study conducted by Washington State University finding that organic milk from Organic Valley farms contains significantly higher concentrations of heart-healthy fatty acids compared to milk from cows on conventional dairy farms. The study, led by Washington State University researcher Dr. Charles Benbrook, was peer reviewed by the prestigious scientific journal PLOS ONE. The study concludes that while all types of milk fat can help improve an individual's fatty acid profile, Organic Valley organic whole milk does so even better. Additionally, a large body of research has shown that grazing on pasture and consuming dried forages, like hay instead of supplemental grains such as corn and soybeans, promotes cow health and improves the fatty acid profile in dairy products. To view the complete study, please visit PLOS ONE. For more information on the Organic Valley milk and farms that were used in the study, please visit http://www.organicvalley.coop/grassup.
"It was gratifying to read in a scientific journal what our farm families have known for a long time," continued Siemon. "We wanted to know and to let other people know. Because of the best pasture practices our farmers employ, we are able to produce the most nutritious and delicious food nature can provide. In turn, organic continues to be a lifeline to family farmers so they can keep farming for generations to come."
Sustainability
Organic Valley was proud to be a leader in alternative energy initiatives in 2013. Organic Valley farmer-owners installed seven on-farm renewable energy projects producing approximately 200,000 kWh of clean energy annually, in WI, IA, VT, MI and OH. Farmers received federal and state grants totaling over $112,000 to help fund the projects. In terms of renewable energy production, Organic Valley installations produced over 80 percent more clean, renewable energy in 2013 than the previous year. Additionally, Organic Valley installed a 5,000-gallon biodiesel fueling station near its headquarters in La Farge, WI for use in its local vehicle fleet.
New Products
New products were also introduced in 2013, including Organic Valley Grassmilk™, http://www.organicvalley.coop/products/milk/grassmilk/, a non-homogenized organic milk produced from cows that are 100 percent grassfed, and two new offerings for the lactose-free community: lactose-free whole milk and lactose-free half and half, http://www.organicvalley.coop/products/lactose-free/milk/.
Organic Valley: Independent and Farmer-Owned
Organic Valley is America's largest cooperative of organic farmers and one of the nation's leading organic brands. Organized in 1988, it represents 1,844 farmers in 35 states and two Canadian provinces. Focused on its founding mission of saving family farms through organic farming, Organic Valley produces a variety of organic foods, including organic milk, soy, cheese, butter, spreads, creams, eggs, and produce, which are sold in supermarkets, natural foods stores and food cooperatives nationwide. With its regional model, milk is produced, bottled and distributed right in the region where it is farmed to ensure fewer miles from farm to table and to support our local economies. For further information visit http://www.organicvalley.coop. Organic Valley is also on Twitter @OrganicValley and Facebook http://www.facebook.com/OrganicValley.