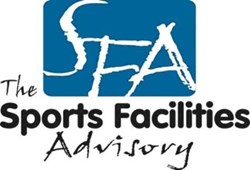 Every complex needs to be properly evaluated, planned and managed; without all three aspects, the project stands a great chance of failing to attract investors or failing year after year due to poor design, location, or management.
Clearwater, FL (PRWEB) February 05, 2014
In a recent NBC News article, Dave Hollander, a professor at New York University's Tisch Center for Hospitality, Tourism and Sports, was quoted as saying, "youth sports tourism wasn't even a category four years ago, and now it's the fastest-growing segment in travel." This is a sentiment echoed by the fact that the youth sports movement has become a $7 billion industry in travel alone (1). But according to officials at the Tampa Bay-based Sports Facilities Advisory (SFA), many sport recreation centers—which serve as a destination spot for competitive amateur athletes and various special events —are failing to meet their full potential because of poor management and planning.
Indoor and outdoor sport complexes have the potential to become a hub for sport tourism and a boon for local economies – research shows that parents spend an average of almost $300 per weekend when they travel with their children's youth sports teams (2). However, SFA COO Jason Clement says that when poorly executed, these facilities can also become problematic for owners and communities.
"Building a facility and expecting people to just flock to it is a recipe for disaster," said Clement. "Every complex needs to be properly evaluated, planned and managed; without all three aspects, the project stands a great chance of failing to attract investors or failing year after year due to poor design, location, or management."
Case in Point:
Twin Cities recently reported that the Vadnais Sports Center went on the market at $13 million over the summer of 2013. Bondholders paid about $26 million to finance the facility, which opened in 2010. The arena, which was formerly backed financially by the city of Vadnais Heights and was originally pitched as a project that would pay for itself through rental fees, failed to live up to revenue projections, and the city found itself covering shortfalls amounting to hundreds of thousands of dollars. It cut ties with the complex last year, leaving bondholders without a guaranteed payback plan and prompting its eventual sale (3).
According to Myrtle Beach, SC Mayor John Rhodes, facilities that underperform become a major burden to the owners – making proper management a vital component. As the mayor of Myrtle Beach - Rhodes knows these markets well. Myrtle hosts well over 250,000 room's nights annually thanks to its thriving sports tourism business.
"Most people do not understand that the amateur sports marketplace includes billions of dollars in development, events, travel expenditures, equipment sales, and food and beverage sales," said Rhodes. "It used to be possible for novice operators to satisfy consumers' desires. However, in today's economic climate, professional management is critical to the success of any venue."
When Myrtle Beach City officials decided to open its latest indoor sports complex, the city turned to SFA. SFA CEO Dev Pathik provides a few other tips for those thinking about optimizing sports tourism assets:

Seek proven best practice from successful operations;
When building a planning team – look for experienced professionals with current operations in multiple markets;
Be suspicious if the year-one forecast shows profitability. These venues can produce huge economic benefit but the facilities themselves may have to sell space for very low prices to attract the best events into the market.
SFA plans and operates facilities, oversees turnaround projects and often recommends significant changes to sports complexes original concepts to ensure that the project has the highest chance to succeed. Pathik says that SFA is opening 1.5 million square feet of facilities and nearly 800 acres of outdoor complexes and manages facilities designed to dramatically improve local communities, such as Rocky Top Sports World in Gatlinburg, TN. The $20 million complex opens in June and features outdoor fields, a track and stadium suited for championship play and an 86,000-square-foot indoor facility.
SFA's has spent the last 10 years attracting the best talent and now boasts a management team with professionals from Disney, The House of Blues, The YMCA, NBC Comcast Global Spectrum, university athletics, Fortune 500 corporations and corporate real estate managers.
SFA assists clients around the world in planning, funding and managing sports and community recreation centers. SFA has served more than $3.5 billion in planned and operational facilities.
For more information about the Sports Facilities Advisory and its suite of planning-funding-opening-management services, visit http://www.sportadvisory.com/home.html.
About Sports Facilities Advisory:
The Sports Facilities Advisory (SFA) is the leading resource in sports facility planning and management. The Sports Facilities Advisory has helped to plan, fund, open and manage dozens of multimillion-dollar sports complexes in communities throughout the USA and internationally since its founding in 2003. The company serves public and private clients. Its services fall into four main categories: plan, fund, open and manage, which encompass every phase from early stage feasibility studies to preparing financing documents, overseeing development and opening and full-time management services. SFA's success depends on its mission to dramatically improve communities through the opening or optimization of sport and recreation centers. For more information, visit http://www.sportadvisory.com/home.html.
1.Koba, Mark. "Parents Spending BIG on Kids' Traveling Sports Teams." Nbcnews.com. NBC, 15 Jan. 2014. Web. 16 Jan. 2014. nbcnews.com/travel/parents-spending-big-kids-traveling-sports-teams-2D11928994.
2.Souza, Kim. "Amateur Sports, Facilities Sought to Spur Local Economies." Thecitywire.com. N.p., 09 Jan. 2014. Web. 17 Jan. 2014. thecitywire.com/node/31183#.Utlr3bROnIU.
3.Horner, Sarah. "Private Training Academy Submits Winning Bid for Sports Facility." TwinCities.com. N.p., 24 Oct. 2013. Web. 17 Jan. 2014. twincities.com/breakingnews/ci_24379726/vadnais-sports-center-go-sports-academy-not-county.