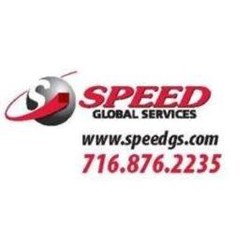 Buffalo, NY (PRWEB) February 06, 2014
Nowadays, to succeed in business, especially on a global scale, businesses must be able to adjust on the fly. The global economy is as unpredictable as ever, which makes adaptability a must when it comes to success. What separates a great business from an average one is an obsession with adaptability; great companies have it and average companies do not. Not only should businesses be obsessed with adaptability, they should also work with other like-minded companies, a company like Buffalo's Speed Global Services.
Since 1948, Speed Global Services has learned to thrive in the changing global economy and the security measures necessary in modern times, consistently growing to fit the needs of its customers, offering third party logistics including national trucking, cross border transportation, international freight forwarding, and customs service between the United States and Canada. With their more than 700,000 square feet of warehouse space and ability to ship products all over the world, Speed Global Services will help any business increase their global presence and succeed on a larger scale.
From humble beginnings as Carmelo Savarino & Songs Trucking to an industry leader in international shipping with a finger on the pulse of all the latest technologies, Speed Global Services proves that adaptability is the key to success. Adaptability allows for smoother collaboration and communication between businesses across the country and around the world, and Speed Global Services makes it a point to educate the public on this fact.
Last May, Speed Global Services brought together many local businesses and held a Global Trade Conference, led by its Vice President Mike Diati. The conference dealt with adaptability, collaboration and communication in terms of global trade, imports, exports and much, much more. It was a rousing success and Speed Global Services is happy to announce the availability of the full-length video, audio and power point files from the conference. The information gleaned from these sources will help transform the mindsets of all companies.
To download all this wonderful information, all you need to do is fill out their simple download form, which can be found here: http://www.speedgs.com/global-trade-conference-register.html. To learn more about imports, exports and global trade, contact them today.
About Speed Global Services: Based in Buffalo, NY, Speed Global Services is one of the most trusted names in the business for companies that need to ship their freight via ground, air, ocean or rail.