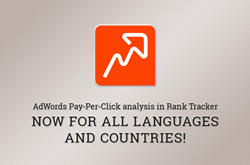 From now on, the tool's PPC research data becomes available for all countries and languages.
Minsk, Belarus (PRWEB) February 04, 2014
Link-Assistant.Com, the developer and marketer of SEO PowerSuite (full-cycle SEO software) and BuzzBundle (an SMM tool with a great coverage of social media websites), extended the functionality of Rank Tracker's SEO & PPC Analysis module. From now on, the tool's PPC research data becomes available for all countries and languages.
Also, Link-Assistant.Com released a detailed set of instructions that explain how to blend SEO and PPC efforts for maximum exposure and better traffic.
The guide describes how to:

choose which keywords to target with SEO or PPC,
profit with PPC ads where SEO fails,
test keyword conversion with PPC, before starting SEO,
and effectively distribute one's budget between PPC and organic traffic.
*Getting the right balance between SEO and PPC*
SEO and PPC can effectively complement each other. A well-planned PPC campaign can enhance one's SEO work and grab some of the traffic that's being missed through organic search.
*About AdWords Pay-Per-Click analysis in Rank Tracker*
"Keywords are the driving force in both organic and paid search. Hence, getting your keywords right is almost half the battle won," says the Link-Assistant.Com's Press Officer.
"For years, webmasters have been using Rank Tracker to discover the most traffic-productive keywords for organic search. Recently, we empowered the app with a new SEO & PPC Analysis module that provides AdWords paid search data, and lets website promoters integrate their SEO and PPC campaigns the most productive way," continues the spokesman.
"And today we took another step to making Rank Tracker's Pay-Per-Click data even more handy. With localized PPC stats the tool has become a one-stop-shop solution for blending SEO and PPC efforts as part of a single web presence optimization strategy," sums up the company's representative.
For more info about the software's new functionality and instructions on how to effectively blend SEO and SMM efforts, follow this link: http://www.link-assistant.com/news/seo-and-ppc-analysis.html
Check the latest industry news - connect to Link-Assistant.Com on Facebook fb.me/LinkAssistant, Twitter @LinkAssistant or Google Plus gplus.to/LinkAssistant and visit the company's blog.
*About Link-Assistant.Com*
Link-Assistant.Com is the leading niche innovator that develops internet marketing solutions designed for advanced search and social media monitoring, reporting and various types of SEO and SMM analysis.
Link-Assistant.Com's software provides bloggers, SEO enthusiasts and and SEO professionals with a wealth of indispensable data on keywords SEO value, site rankings fluctuations, on-site and on-page optimization rates, website backlink portfolio, popularity on social media and a lot more.
Free versions of the products are available on the company's official website Link-Assistant.Com.