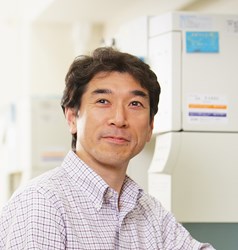 Durham, NC (PRWEB) February 04, 2014
STEM CELLS is proud to announce the appointment of new Associate Editor, Dr. Toru Kondo of Hokkaido University, Japan. Dr. Kondo has served as an outstanding member of the STEM CELLS Editorial Board since 2007 and we are delighted that he has accepted our invitation to become an Associate Editor. He joins Associate Editors, Dr. Majlinda Lako and Dr. Noel Buckley, Concise review Editor Dr. Terry Lappin, and Editor Dr. Jan Nolta.
Dr. Kondo brings a high level of additional expertise to our group of editors. In 2012 he was appointed as a full professor at the Institute for Genetic Medicine, Hokkaido University in Sapporo, Japan. His laboratory studies how neural stem/precursor cells are involved in the development of CNS diseases, such as brain tumor and Alzheimer's disease. He is particularly interested in identifying new molecules associated with these disorders, characterizing them and developing new therapeutic methods. He has also a keen interest in the molecular mechanism of oligodendrocyte precursor cell differentiation. He hopes one day the knowledge gained from his work will contribute to the development of therapeutic applications.
Dr. Kondo had formerly been a group leader at the Cambridge University Centre for Brain Repair UK, a team leader at the RIKEN Center for Developmental Biology (CDB) Japan and a full professor at the Ehime University Proteo-Medicine Research Center Japan.
Dr. Kondo is replacing Associate Editor Dr. Mark Pittenger, who is stepping down at the end of his term. Dr. Pittenger has been fundamental in helping STEM CELLS remain at the top of the field. STEM CELLS is grateful for his contributions in the advancement of the Journal.
We welcome Dr. Kondo and the outstanding expertise that he brings to our editorial team and wish Dr. Pittenger all the best in the New Year.
###
About the Journal: STEM CELLS, a peer reviewed journal published monthly, provides a forum for prompt publication of original investigative papers and concise reviews. The journal covers all aspects of stem cells: embryonic stem cells/induced pluripotent stem cells; tissue-specific stem cells; cancer stem cells; the stem cell niche; stem cell epigenetics, genomics and proteomics; and translational and clinical research. STEM CELLS is co-published by AlphaMed Press and Wiley-Blackwell.
About AlphaMed Press: Established in 1983, AlphaMed Press with offices in Durham, NC, San Francisco, CA, and Belfast, Northern Ireland, publishes three internationally renowned peer-reviewed journals with globally recognized editorial boards dedicated to advancing knowledge and education in their focused disciplines. STEM CELLS® (http://www.StemCells.com), now in its 32nd year, is the world's first journal devoted to this fast paced field of research. THE ONCOLOGIST® (http://www.TheOncologist.com), in its 19th year, is devoted to community and hospital-based oncologists and physicians entrusted with cancer patient care. STEM CELLS TRANSLATIONAL MEDICINE® (http://www.StemCellsTM.com), in its third year, is dedicated to significantly advancing the clinical utilization of stem cell molecular and cellular biology. By bridging stem cell research and clinical trials, SCTM will help move applications of these critical investigations closer to accepted best practices.
About Wiley-Blackwell: Wiley-Blackwell is the international scientific, technical, medical, and scholarly publishing business of John Wiley & Sons, with strengths in every major academic and professional field and partnerships with many of the world's leading societies. Wiley-Blackwell publishes nearly 1,500 peer-reviewed journals and 1,500+ new books annually in print and online, as well as databases, major reference works and laboratory protocols. For more information, please visit http://www.wileyblackwell.com or our new online platform, Wiley Online Library (wileyonlinelibrary.com), one of the world's most extensive multidisciplinary collections of online resources, covering life, health, social and physical sciences, and humanities.