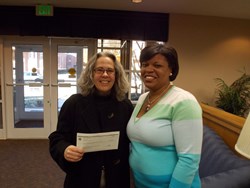 The employees and directors of Carolina Farm Credit are thankful we can positively impact the lives of many in need through our local charitable donations. This is a project our employees and board members look forward to participating in each year.
Statesville, NC (PRWEB) February 04, 2014
Carolina Farm Credit, its employees, and board members donated over $6,600 to local charities in 2013. Over $3,300 was collected by employees and board members who participated in a charity contribution throughout 2013 and $3,300 was donated by Carolina Farm Credit to match the employee and director donations. Each of the Carolina Farm Credit 36 service centers submitted a local charity choice and six charities were selected through a random drawing to divide the donations.
The following groups will receive donations of $1,102.23 from Carolina Farm Credit:
Hospice of Davidson County – Lexington, NC (Lexington service center)
Esther House – Albemarle, NC (Albemarle service center)
Allied Churches of Alamance County –Burlington, NC (Graham service center)
Brenner's Children's Hospital –Winston-Salem, NC (Rural Hall service center)
A Storehouse for Jesus – Mocksville, NC (Mocksville service center)
MANNA Food Bank – Asheville, NC (Asheville service center)
Hospice of Davidson County provides a specialized team that supports and empowers individuals to make educated choices about end of life care. Since 1985, Hospice of Davidson County has been offering medical expertise and comfort care to help patients and families facing terminal illness. Patients are cared for in the home, in long term care facilities across the county, and at the inpatient hospice facility, The Henry Etta & Bruce Hinkle Hospice House.
Esther House is a locally operated and supported agency that provides shelter and support to victims of domestic violence and sexual assault in Stanly County. Services include safe shelter, court advocacy, safety planning, case management, parenting classes, domestic violence group counseling and education, and community resources to assist victims.
Allied Churches of Alamance County provides emergency services in a safe in healthy environment, while moving individuals toward self-sufficiency. They provide meals, shelter, resources, and support to meet social, education, health, and other needs by serving the lonely, hungry, and homeless. They are sustained by the support of individual community members and organizations who contribute food and funds, and volunteer their time.
Brenner Children's Hospital at Wake Forest Baptist Medical Center is the signature, full-service children's hospital in western North Carolina. Brenner Children's Hospital treats children from western North Carolina, as well as parts of Virginia, South Carolina, and Tennessee. More than 4,500 children are admitted to Brenner Children's Hospital each year, and more than 21,000 pediatric subspecialty visits occur annually at the hospital-based outpatient services. It was ranked among the best children's hospitals in the country according to the U.S. News & World Report's 2013- 2014 Best Children's Hospitals rating.
A Storehouse for Jesus is a non-profit, Christian ministry helping those in need in Davie County and surrounding areas. Services include a distribution ministry, which helps people with food, clothing and housewares; medical clinic and medical assistance program, dental and eye clinics; help with school supplies, birthday closet for children and teens, holiday programs, Thanksgiving dinners, Christmas gifts for children, seniors, and special needs adults; and Christmas dinners for seniors.
The MANNA Food Bank is a non-profit service organization that collects, stores, warehouses and distributes food to accredited non-profits throughout 16 counties in Western North Carolina. MANNA's partners then distribute the food directly to families in their community according to their individual programs. MANNA provides direct service on a very limited basis to those struggling with hunger through the MANNA Packs for Kids Program and Food Stamp Outreach.
Vance C. Dalton, Jr., CEO of Carolina Farm Credit said, "The employees and directors of Carolina Farm Credit are thankful we can positively impact the lives of many in need through our local charitable donations. This is a project our employees and board members look forward to participating in each year."
Carolina Farm Credit is a stockholder-owned cooperative providing financing to full and part-time farmers and agricultural-related businesses and also provides financing for the construction and purchase of homes in 54 counties through 36 service centers. Other financial services available are credit life insurance, crop insurance, appraisal services, leasing programs and financial planning.
Carolina Farm Credit serves over 8,900 members with loans outstanding totaling more than $1.38 billion. The association's territory covers the western half of North Carolina, with service centers located in Albemarle, Asheboro, Asheville, Boone, Browns Summit, Burnsville, Carthage, Concord, Ellerbe, Graham, Hendersonville, Hillsborough, Jefferson, Lenoir, Lexington, Lincolnton, Marshall, Mocksville, Monroe, Murphy, Newton, Pilot Mountain, Roxboro, Rural Hall, Salisbury, Shelby, Siler City, Sparta, Spindale, Statesville, Taylorsville, Wadesboro, Waynesville, Wilkesboro, Yadkinville, and Yanceyville.
Carolina Farm Credit was recognized as a 2013 Best Employer in North Carolina. The list of the Best Employers in North Carolina was created by Business North Carolina, the Society for Human Resource Management (SHRM) – NC State Council and Best Companies Group.
Directors for Carolina Farm Credit are Mark A. Bray, Chairman, Lawsonville; L. Kim Starnes, Vice-Chairman, Salisbury; John M. Barnard, Statesville; E. Bernard Beck, Seagrove; W. Rex Bell, Statesville; David M. Coltrane, Pleasant Garden; Susie J. Gambill, Sparta; Joseph A. Lail, Shelby; W. Steve Love, Graham; Bobby J. "Bud" Matthews, East Bend; Clark M. Newlin, Haw River; Thomas E. Porter, Jr., Concord; Tony L. Ragan, Sanford; D. Kaleb Rathbone, Waynesville; Lewis E. Smith, Lincolnton; Vickie N. Smitherman, East Bend; Dr. Alton Thompson, Summerfield.